Discover the best short walks Mt Cook offers up – each of them are well worth checking out.
Mount Cook National Park is a bucket list destination for travellers and New Zealand locals alike.
Home to incredible views, alpine adventures, a range of exciting activities and countless hikes (or tramps, as we say in New Zealand), it's no wonder people travel from right around the world to see this beautiful part of the country.
Whilst in the national park, we recommend heading out on on a Mount Cook walk – no visit to this region is complete without doing so.
Being short on time doesn't need to limit your opportunities though as many of the short walks Mt Cook has on offer are just as spectacular as their longer counterparts.
Join us as we share our favourite short Mt Cook walks and trails.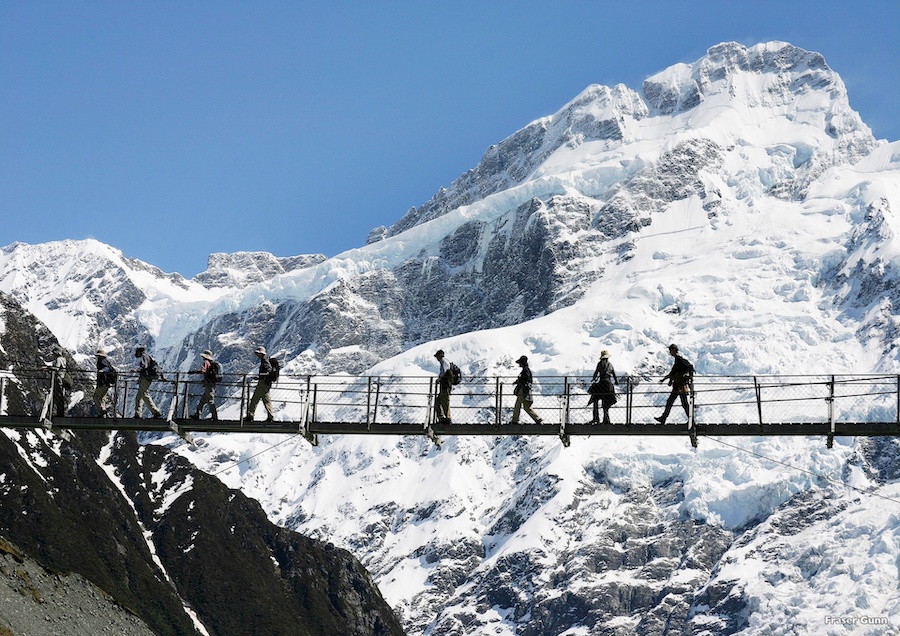 The Best Short Walks Mt Cook Has
The Hooker Valley Track
The Hooker Valley Track is a popular walking trail in Mount Cook National Park. In fact, it might be one of the most popular short walks in the whole of New Zealand.
Leading through the Tōpuni area of the Hooker Valley, this walk crosses a number of scenic swing bridges. The tracks themselves are made up of well-formed pathways and wooden boardwalks, providing accessibility to a wide range of walkers.
As the trail is fairly flat, it is suitable for the whole family – though some small children may find walking the full 10km return a challenge. If this is the case, we suggest walking to the first swing bridge where you will still enjoy beautiful views of Mueller Lake. Listen carefully and you might even hear avalanches coming from Mount Sefton.
Should your little ones still have plenty of energy, you can continue walking as far as you like – just ensure they have enough in the tank for the return journey.
After crossing the first swing bridge over the Hooker River, you'll pass over old moraine ridges and humps before finding yourself at the second bridge. From there, the vista opens up to vast fields of tussocks.
After crossing the third swing bridge you'll find yourself at the source of the Hooker River.
This is where you can expect to find icebergs floating in Hooker Lake and stunning views of Aoraki/Mount Cook amongst the rest of the Southern Alps.
Throughout this walk you'll want to keep your eyes peeled for celmisia and the Mt Cook buttercup (kōpukupuku). Listen out for kea too as they can sometimes be heard as you walk along the track.
Without a doubt, this is one of the best walks in the national park.
Total distance: 5km each way (10km in total).
Elevation change: Approx 100m.
Time: 3 hours return.
Book: A guided tour with us to Mount Cook National Park and Hooker Valley.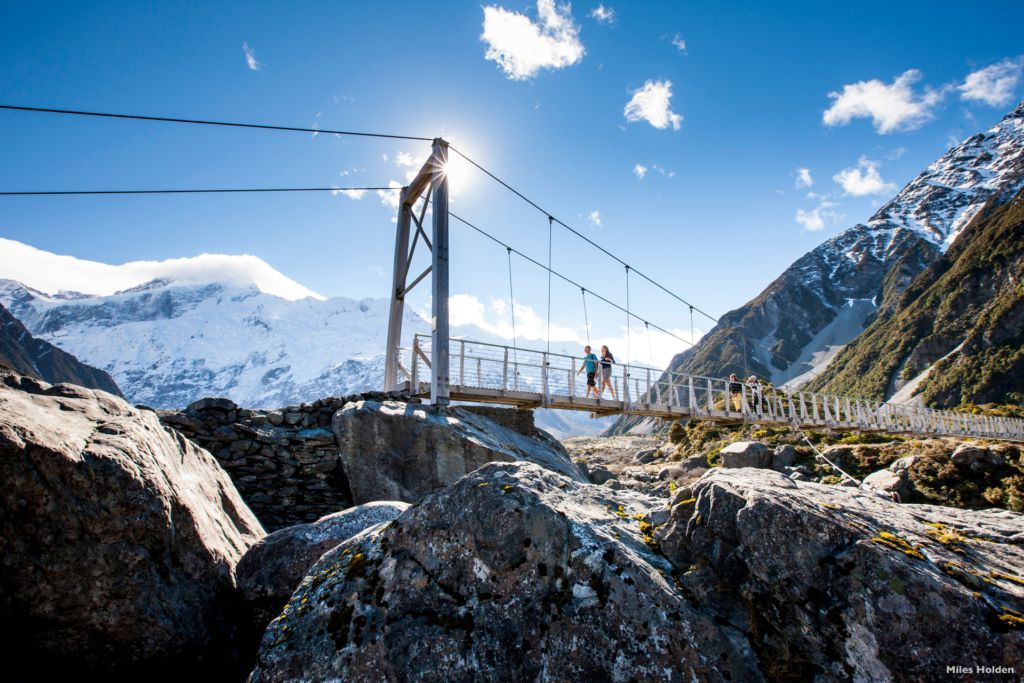 The Kea Point Track
If you're looking for a shorter walk in Mount Cook National Park that's still sure to impress, we recommend checking out the Kea Point Track.
This lovely walk works its way through scrub and grasslands towards the Mueller Glacier moraine wall. In fact, it was in 1913 that a stream from the glacier cut its way through the original Hermitage site, leaving the moraine rock face you'll see today.
The trail ends at a viewing platform that presents beautiful vistas of Mount Sefton, The Footstool, Mueller Glacier Lake, Hooker Valley, Mueller Glacier Lake and Aoraki Mount Cook itself.
As this walk is a little shorter, it is particularly well-suited for those with limited time to explore – and yes, it fits perfectly into our tour schedule.
Total distance: 3km one way (6km return).
Elevation change: 180m.
Time: 1 hour return.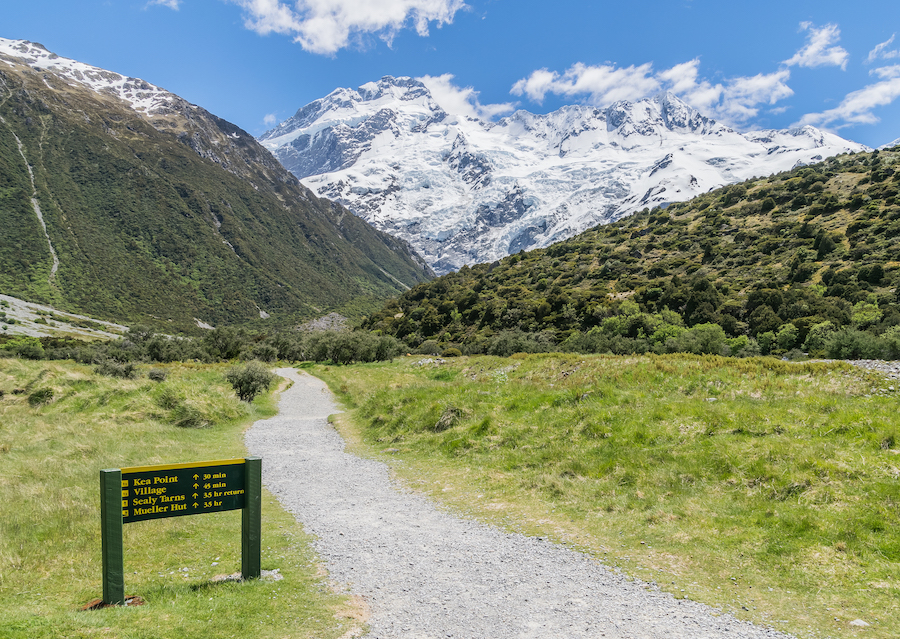 Blue Lakes and Tasman Glacier Walks
The Tasman Glacier is the longest in New Zealand, clocking in at an incredible 23km. Haupapa (the Tasman Glacier's Te Reo Māori name) is accessible via this easy short walk.
It is, in fact, the shortest walk on our list – that doesn't make it any less worthwhile though.
It takes just 40 minutes to walk the return track to the Tasman Glacier View. You'll find a series of rock steps and pathways leading from the carpark, past the Blue Lakes shelter and up towards a viewpoint on the moraine wall.
There, you will find views of the lower Tasman Glacier, Tasman Lake and the Southern Alps. Icebergs can often be found floating in the lake during the summer season and during winter, the lake freezes over. He sure to have your camera ready!
If you have spare time, we recommend making the side trip to the Blue Lakes. During the summer-season, this is a great spot for swimming also.
Keep your eyes peeled too as on this walk you might spot New Zealand's smallest bird, the rifleman. These gorgeous little birds are described as being like "ping-pong balls with a beak". They're gorgeous to watch, darting from bush to bush.
Total distance: Between 1.15 and 2.75km return (depending on the route you take). The round-trip walk to the Tasman Glacier View is 1.15km . Adding the side track to the Blue Lakes takes that up to 1.85km if you visit the first two lakes. It totals 2.75km if you make the full round-trip to Ball Hut Road.
Elevation change: Approx 85m on the 1.15km walk to the Tasman Glacier View.
Time: 40 minute return to Tasman View Glacier. 1 hour return if you include the Blue Lakes too.
Book: Your Mount Cook tour with us – including 4-hours of free time to undertake any of these walks.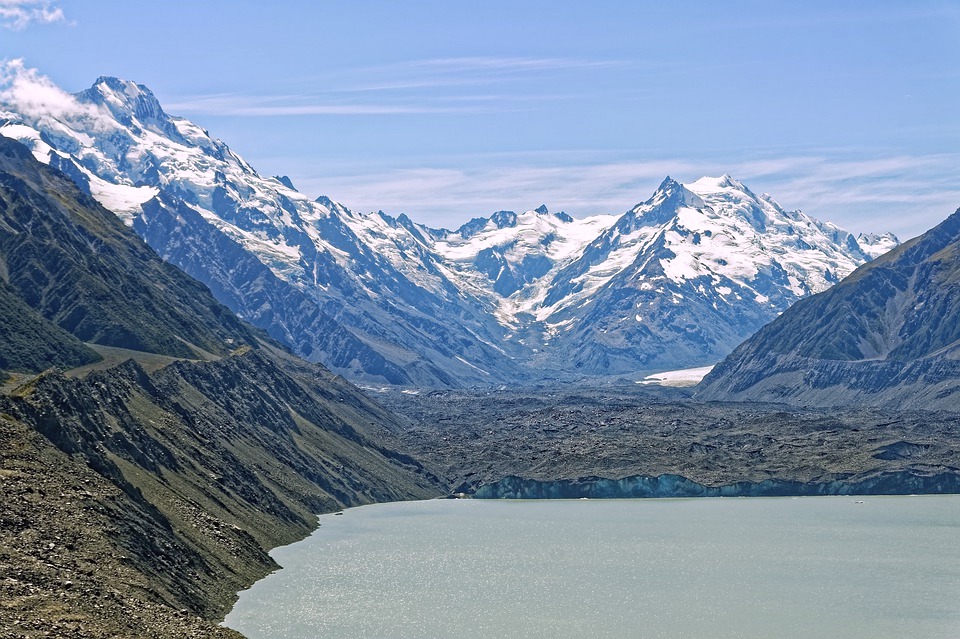 Though there are other short walks at Mount Cook, these are by far our top recommendations.
If you have time, you might even like to combine a couple.
Which will you choose when you join us on tour to this incredible national park?