One of only ten Great Walks in Aotearoa New Zealand, the Routeburn Track is a stunning tramp.  Crossing both Mount Aspiring National Park and Fiordland National Park, this is a hike that needs to be seen to be believed.
During the course of your 2-4 day walk, you can expect to weave your way through meadows and alpine gardens, whilst enjoying the reflection of tarns and views of massive mountains and valleys.
At 33km one way, this is not a loop track.  This means that you'll need a transport solution to help you get to and from the trail – something that we're pleased to be able to help with.
Routeburn Track Transport Package from Queenstown Return – Routeburn Shelter – Divide Direction.
Depart:
Depart from Queenstown (or Glenorchy if you would prefer), headed for the start of your Routeburn Track adventure.  Arrive at Routeburn Shelter to begin this incredible tramp.
A range of departure times are available to best suit your schedule.
Return:
Depart at 3.30pm from the Divide, headed for Queenstown (via Te Anau), ready for some well-deserved rest and relaxation.
Routeburn Track Transport Package from Queenstown, Return
– Divide – Routeburn Shelter Direction.  
Depart:
Join us on our comfortable small-group minibus, departing from Queenstown bound for The Divide.  We will travel via Te Anau, arriving at at the start of the Routeburn Track.
You will then independently walk one of the best trails in all of Aotearoa.
Return:
Once you've completed your hike, board a bus from Routeburn Shelter to either Queenstown or Glenorchy, ready for rest and relaxation.
Routeburn Track Transport from Queenstown, Return by Car (Car Relocation including $40 Fuel Top Up) – Start at the Routeburn Shelter
Depart:
Drive your own car from Queenstown (or anywhere, for that matter) to the Routeburn Shelter.  Please ensure you arrive no later than 1 pm (to allow time for your car to be relocated).
Return:
Upon finishing the Routeburn Track, you'll find your car ready and waiting for you (after 1 pm) at The Divide.  From there, you can make your way to the next stop on your Aotearoa itinerary.
Additional Information:
A flat fee of $339 is added for each car that needs relocation – this must be booked in the 'optional extras' page during the booking process and includes a fuel top up of $40 (to ensure you can continue on to your next destination).  If this is not selected, car relocation services will not be provided.  Car relocation is booked based on your walk taking three days, should you wish to request another timeframe, you are able to request this.  Please note, this may incur an additional charge.
Cheeky Kiwi – The Best!
My husband and I used Cheeky Kiwi for our transportation to and from the Milford Track from Queenstown. We had an amazing experience!
The times and pickup/drop-off locations were convenient and punctual, and the rides themselves were like their own mini-tours, which is such a bonus! Our drivers (Dave and Kreig) were super knowledgable about all the areas we were driving through, and gave us great insights and tips on the Milford Track and other tramps in the area. They even stopped at lookout points for photos along the way and still kept us on time. We would absolutely book with them again, and recommend them to anyone looking for a great value!
Planning Your Great Walk
Prebook Your Transport and Accommodation
All accommodation on the Great Walks must be prebooked during the season – we ask you to do this before booking your track transport through us.
Transport also needs to be booked in advance, so once you have your huts locked in, make us your next stop.
Download the Great Hikes App
To help you plan your tramp, we recommend downloading the Great Hikes app.  This is free to download and use and, in our opinion, is indispensable on the trail.
It works well offline and makes use of GPS to let you know exactly where you are on your hike.  It helps you to plan your day (and your breaks) and allows you to check your progress in order to meet your transport at the other end.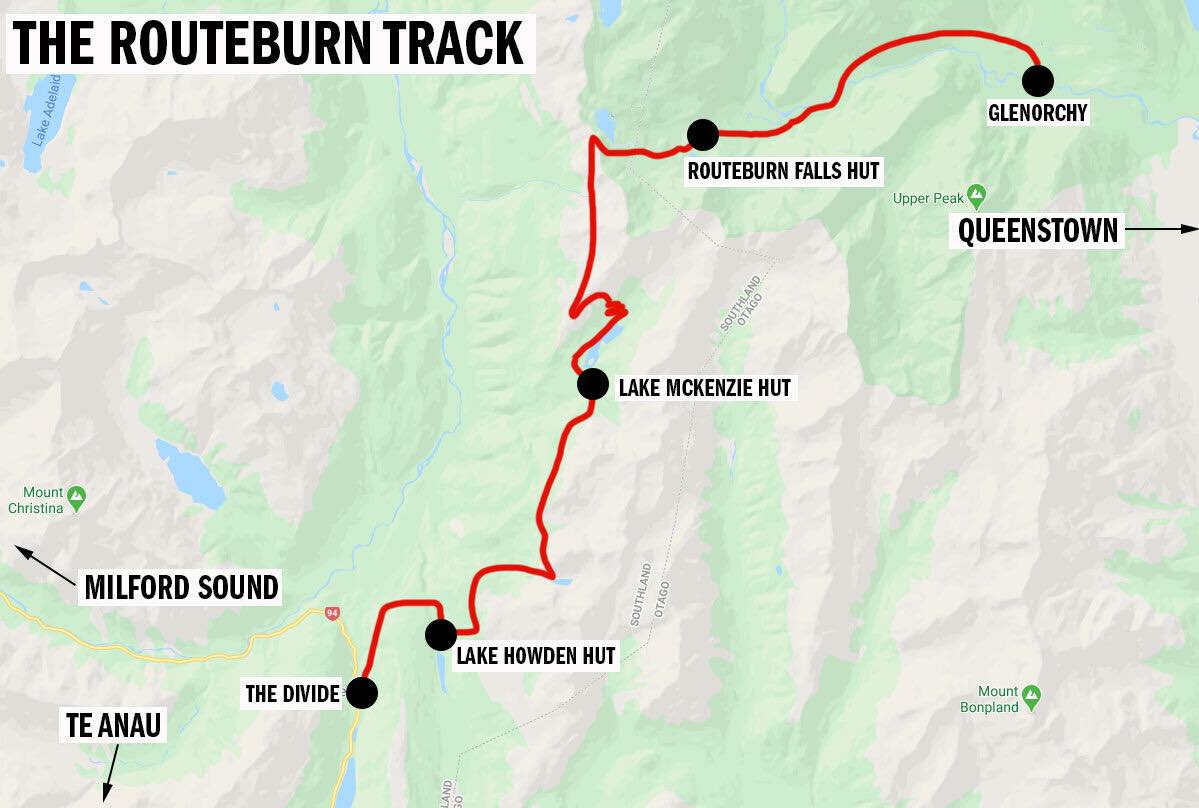 The Cheeky Kiwi Travel Difference
When you're talking on a Great Walk, you deserve the very best experience from start to end – that's why you'll want to book with us.
Not only do we transport our guests in luxurious fully-guided minibuses but we go out of our way to ensure all of the little details are considered. Our transport includes professional commentary and lots of local tips, making our transfers so much more than just a transport solution.