Find the best Mt Cook accommodation to make your stay in one of the most beautiful national parks in New Zealand even better.
Mount Cook is famed for its incredible natural beauty, adventurous activities, spectacular walks and clear night sky.
Though many choose to visit just for the day (from Christchurch or Queenstown), it is also possible to overnight inside the national park.
Offering a range of accommodation options, from barebones camping to the ultimate in luxury, there is something to suit all preferences in Mount Cook National Park.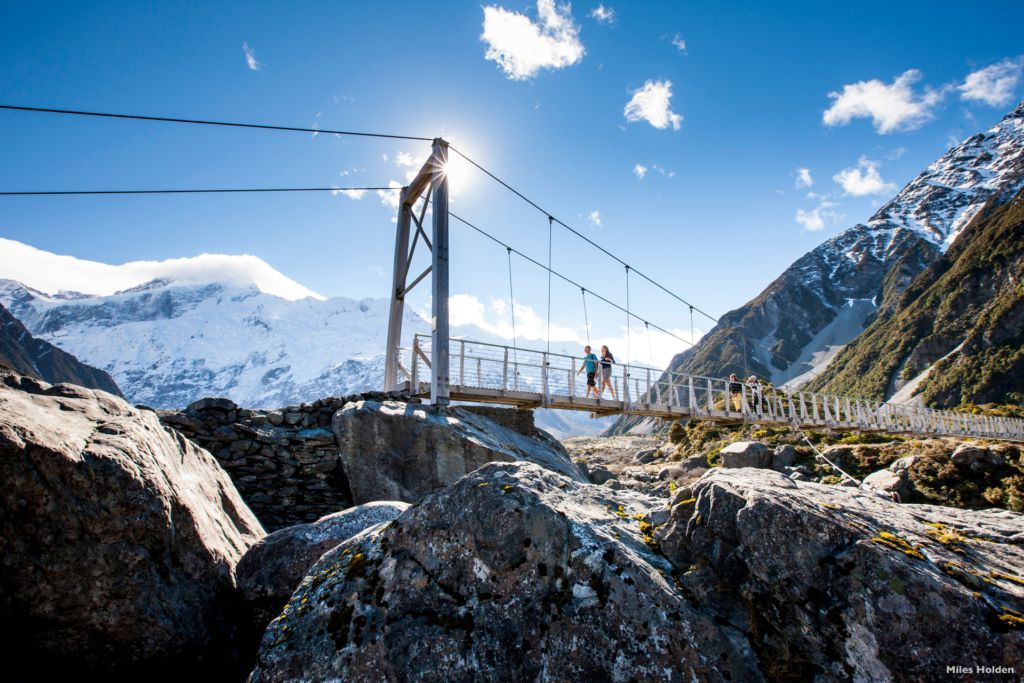 The Best Mt Cook Accommodation
In no particular order, these are our top eight Mt Cook accommodation options…
1. White Horse Hill Campground
Offering only simple facilities, the White Horse Hill Campground is the closest accommodation option to the famed Hooker Valley Track. It is nestled under the beautiful Mt Sefton, so you can expect to hear small (and harmless) avalanches dropping off occasionally.
The campsite comes with flushing toilets and a generous dining/kitchen area that is sheltered from the elements.
Though there are no showers at this campsite, you will find some at the public shelter in the village (which is 2.5km away).
Due to the lack of facilities, this campsite is best suited to campers who are self-contained or only looking to stay for a night or two in their van.
The White Horse Hill Campground is basic (it's really just a carpark with some additions) but it is affordable and right where the action is, making it a great option for those in campervans. Advance bookings are required year-round.
Book: Your stay at the White Horse Hill Campsite.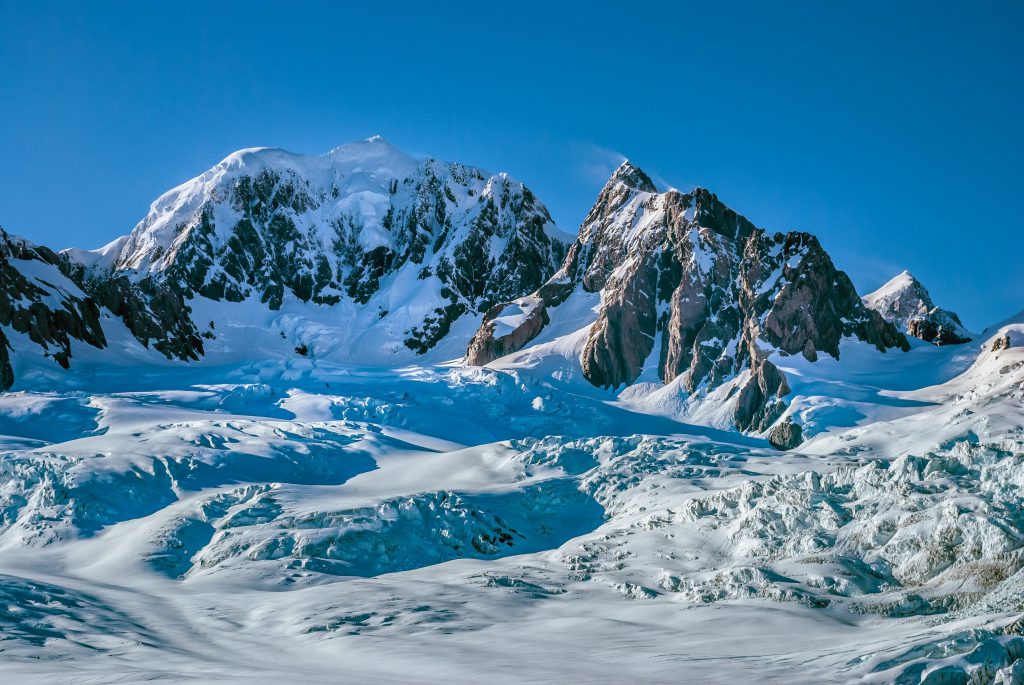 2. The Hermitage Hotel
If you're heading to Mount Cook National Park to celebrate a special occasion, there really only is one choice in accommodation – the Hermitage.
With unrivalled views of the national park, a beautiful old-world charm and ample space in all of the common areas, this is one of New Zealand's best-known hotels.
Choose from a premium hotel room, motel unit or homely chalet, depending on your budget and preferences.
It is, of course, the premium hotel room that you'll want to book if you're looking for an out-of-this-world stay.
The perfect place from which to discover Mount Cook National Park, we recommend a stay here on your next South Island getaway.
Book: The Hermitage Hotel.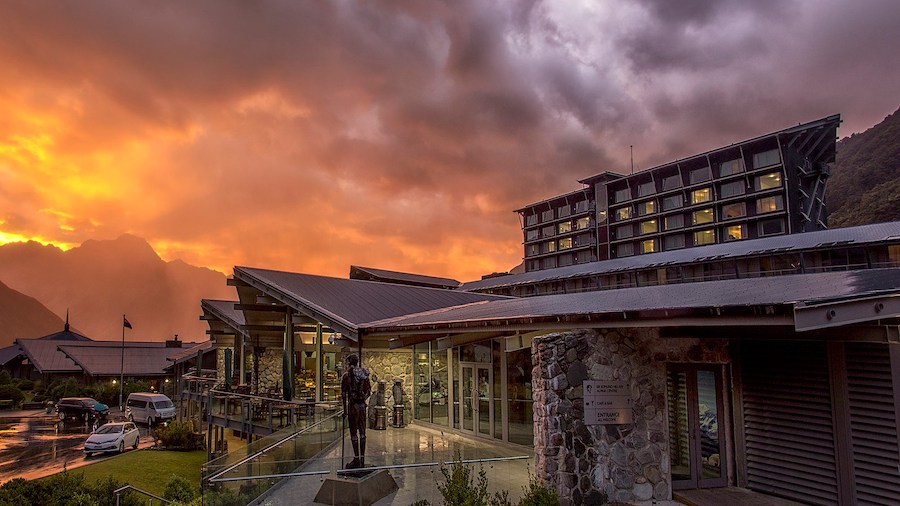 3. Aoraki Alpine Lodge
The Aoraki Alpine Lodge offers affordable accommodation right in the heart of the Aoraki Mount Cook Village.
With more than a dozen ensuite rooms and a 24-hour check in, it's a great choice for your visit to the national park. They also include free WiFi for the duration of your stay.
This lodge is budget-friendly whilst providing excellent service and comfort – a winning combination, if you ask us.
Plus, a stay at the Aoraki Alpine Lodge will have you perfectly positioned to explore all that Aoraki offers.
Book: Aoraki Alpine Lodge.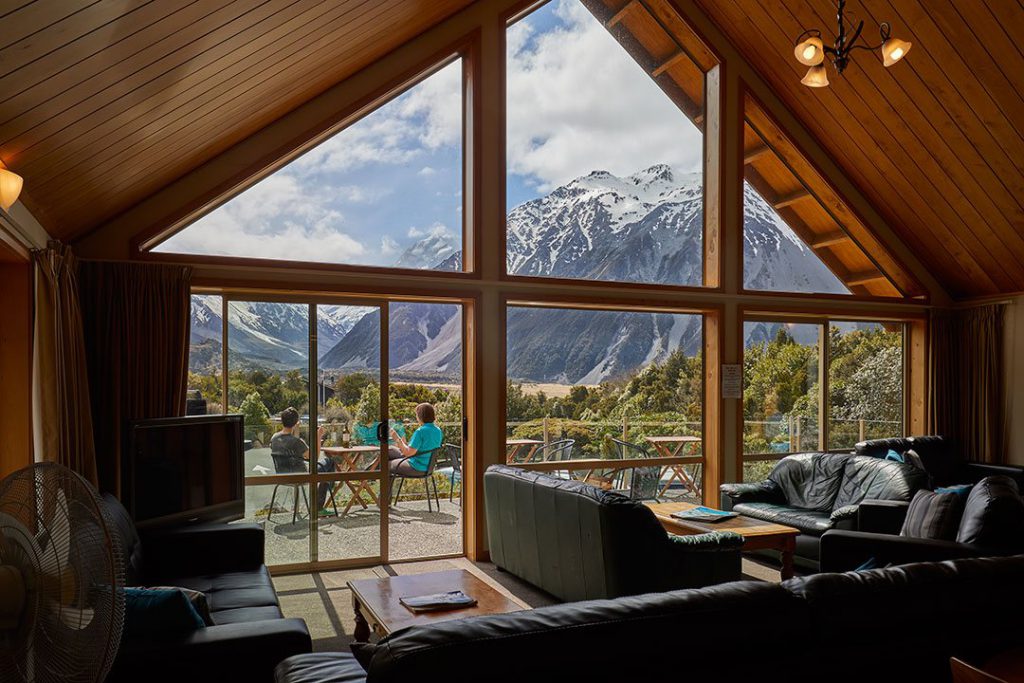 4. Aoraki Alpine Chalet
Next door to the Aoraki Mount Cook Alpine Lodge (mentioned above), you'll find the Aoraki Alpine Chalet – in fact, they're owned by the same people.
The chalet is designed to accommodate 8 people, across three rooms. It is to be booked in its entirety, making it perfect for larger families or people travelling in groups.
Offering beautiful mountain views from its balcony, you'll also enjoy air conditioning (perfect for the summer-season), free WiFi, satellite TV and a fully-equipped kitchen.
Or, if you'd prefer, you're able to make use of their BBQ, outdoors terrace and garden – what a beautiful place to spend a summer's evening.
The chalet is a bit retro but thanks to it's cosy nature and perfect location, we recommend a stay here.
Book: Aoraki Alpine Chalet.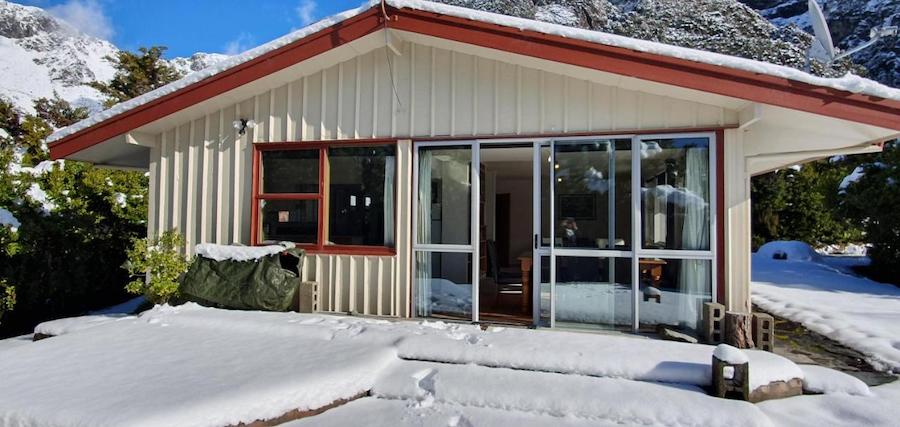 5. Aoraki Court
Having opened in 2013, Aoraki Court is a motel that provides affordable luxury in the Mount Cook Village.
Each and every unit has spectacular views of Mt Sefton and the Southern Alps, is generously sized and includes a private ensuite. They also each come with their own cooking facilities and free (and unlimited) WiFi.
For your convenience, they keep reception open 24 hours a day, 7 days a week and offer daily house keeping.
Though you'll have all of these comforts at Aoraki Court, don't plan on spending all your time there – Mount Cook National Park is waiting to be discovered!
Book: Aoraki Court.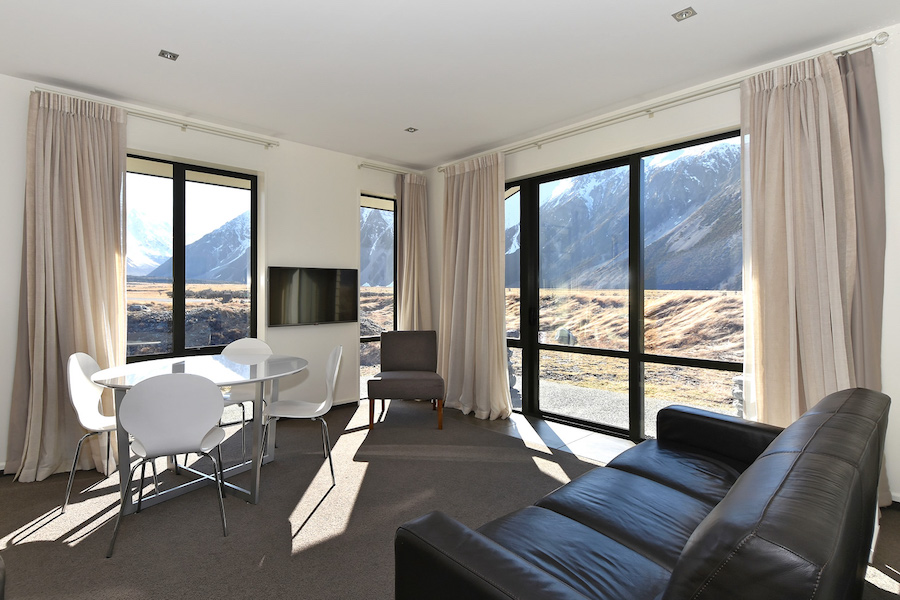 6. Mt Cook Lodge and Motel
Another fabulous option in Mount Cook National Park, you'll fine the Mt Cook Lodge and Motel right in the village itself.
With a wide range of room and accommodation types, they offer something for all budgets and tastes. Choose from a motel room (with self-catering kitchen facilities and air conditioning), a lodge room (with tea and coffee making facilities), or make new friends in their shared dormitories.
Most of the rooms have had a recent facelift and look great!
You'll also find the Chamois Bar & Grill onsite, offering hearty pub-style meals. Plus, they have a billiards table and large TVs to watch the ever-important game on.
Included in your stay is a complementary shuttle service to the Hermitage Hotel (approximately 800m away). This provides another great option for restaurants and bars, along with the ability to book additional activities – though we suggest you contact us to make booking your activities a breeze.
Book: Mt Cook Lodge and Motel.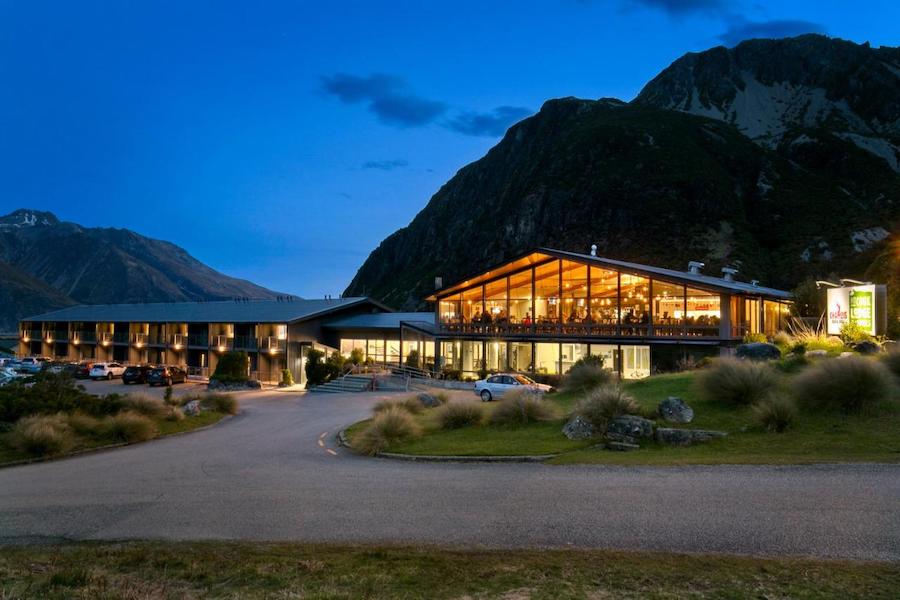 7. Glentanner Park Centre
Located 18km from Aoraki Mount Cook National Park and on the shores of Lake Pukaki, Glentanner Park Centre offers affordable, comfortable accommodation with panoramic views of the area.
With options including self-contained cabins, dormitory rooms and camp sites (both powered and non-powered), there is something for everyone here – particularly if you're travelling on a budget.
In addition, you'll find shared kitchen, bathroom and lounge facilities on site, along with a covered barbecue area – perfect for cooking up an easy meal.
What's more, they have a cafe that is open for breakfast and lunch daily.
As the holiday park is a 15 minute drive away from Mount Cook, you will need your own car. Or, better still, join one of our tours and we'll drop you off and pick you up again when you're ready to return.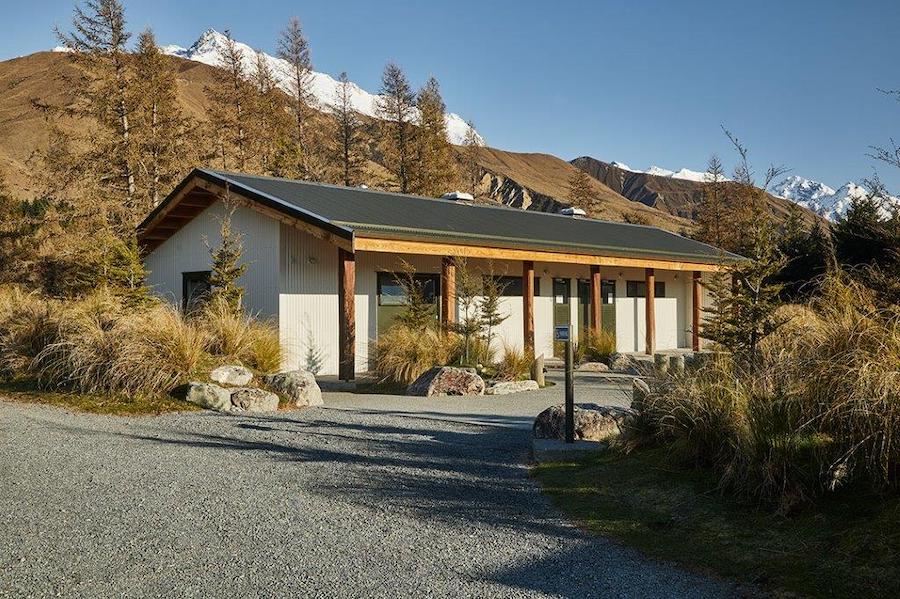 8. Mt Cook Lakeside Retreat
Though the Mt Cook Lakeside Retreat is the furthest from Mt Cook of all the options we've shared, it is too stunning to leave off.
With two different luxury accommodation options, this is living!
Choose from a 2-bedroom villa with its own sauna, lake-side hot tub, workout room and massage room, or book yourself into another of their 2-bedroom villas where you'll have your own outdoor bathtub.
Given the incredible night skies in this part of Aotearoa, we can't think of anything better than being in our own hot tub or outdoor bath, soaking up the Milky Way.
This is the perfect place to stay if you're celebrating a special occasion or are just looking to treat yourself.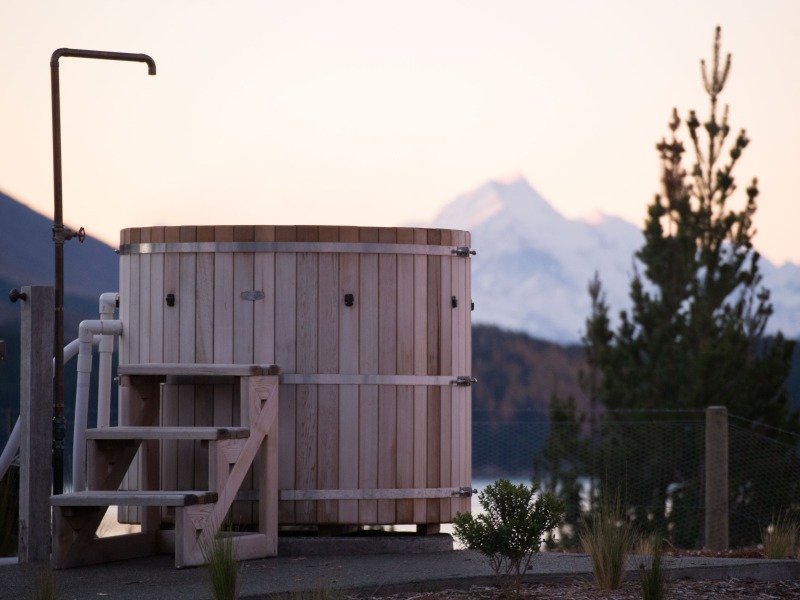 With such a range of accommodation available within the Mount Cook National Park (and nearby), there is something to suit every type of traveller.
Which looks perfect for your next adventure?
---
Photo credit: Imagery was taken from each of the hotels we mentioned. We thank the accommodation providers for the use of their photographs.