JOIN ONE OF OUR MILFORD SOUND TOURS
Tours to Milford Sound/Fiordland from Queenstown
Tours to Milford Sound/Fiordland from Te Anau
A 10 Out of 10 Day!
My husband and I did the 
Milford
Sound Small Group Tour from Te Anau. WOW it was flawless from start to finish. Communication was perfect. We couldn't have asked for a better guide. Mark treated all of us like royalty even opening and closing doors and handing us umbrellas and lunch packs. His passion for the area and his job shone through all day. Cruise
Milford
was also wonderful. We would encourage all Kiwi to book this tour so that you can relax, sit back and enjoy the day because there is so much beauty to take in. We had a perfect experience.
Is Milford Sound Best Seen in the Wet or Dry?
Regardless of the weather Milford Sound is breathtaking.  
Though different weather conditions bring different experiences, one is not better than the other.  In fact, we recommend seeing Fiordland in both settled and wet conditions if possible, as they both really are spectacular in their own right.
A Rainy Day at Milford – Something to Celebrate
Do not let possible rain put you off when planning a trip to Fiordland!
As one of the wettest places on Earth (and the wettest in New Zealand), it's a good thing that the region is spectacular in the rain.
First of all, the cruise boats offer complete shelter from the elements (and tea, coffee and biscuits, if you do need to warm up after braving the rain). 
In addition, you'll be able to choose just which stops you venture out of our van – opting to stay dry inside if you'd prefer.  We do recommend bringing a rain jacket and umbrella though – after all, it's not every day you find yourself right in the middle of the most beautiful place on Earth!
In the fiord, many are surprised to learn that there are only two permanent waterfalls in the fjord – Lady Bowen Falls and Stirling Falls. The latter is three times the height of Niagara Falls and a breathtaking sight to behold.
When it rains though, hundreds of temporary waterfalls explode into life.  Not only do they cascade down the fiord, but they also feed into Lady Bowen Falls and Stirling Falls, making them even more powerful!
With waterfalls springing up faster than you can count, and the rainforest lush thanks to the downpour, this is Milford at its best.
Sunshine Galore – Have Your Camera at the Ready
Though we adore Milford in the rain, there are a few advantages to venturing into the fiord on a calm, still day.
When the wind is low and there's no sign of rain, turn your eyes to the water.  
Milford produces the most amazing mirror reflections – just like you'll see at the Mirror Lakes, but better!
Watch as the mountains and forests reflect back on themselves.
This mind-bending optical illusion will have you wondering which way is up and marvelling at the beauty of the national park.
And of course that's not to mention the added bonus of a sunny day – you won't get wet!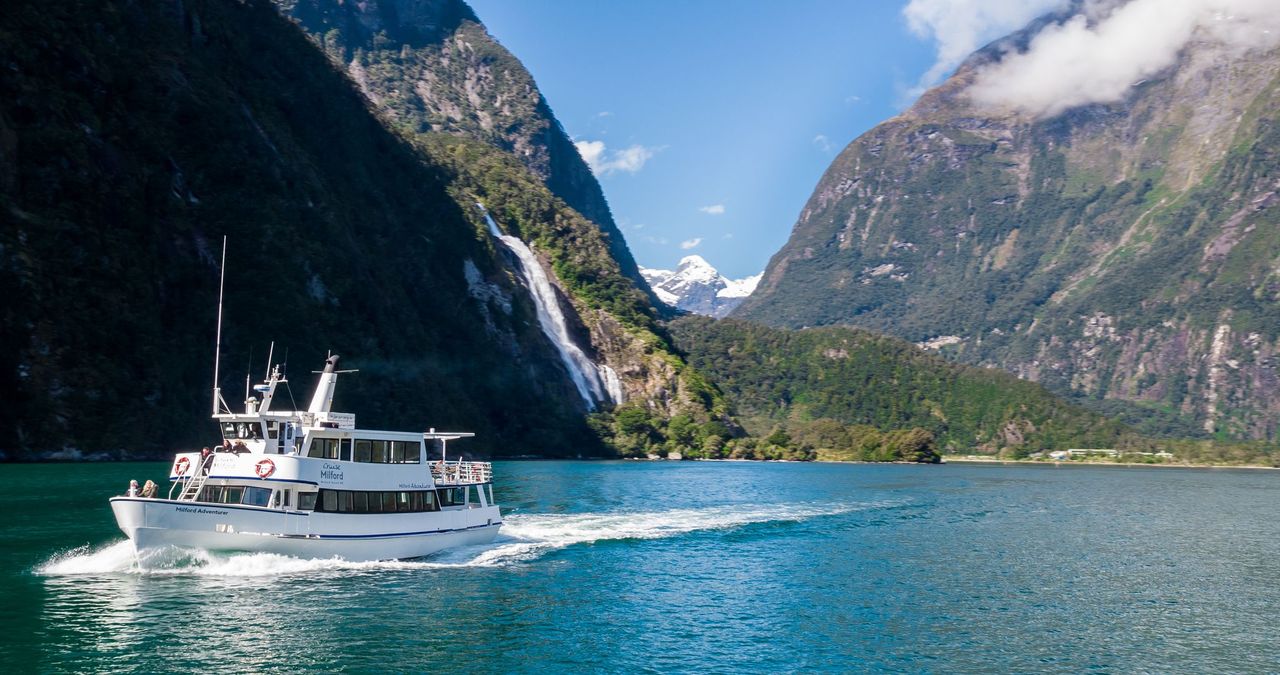 Te Anau to 
Milford
 may only be 2 hours, but don't take the car, go on tour with great information, plenty of stops and a chance to meet others. The cruise is sensational, whatever the weather. If it rains, you will be delighted to see hundreds of temporary waterfalls cascading down the sheer cliffs. Amazing experience.