Milford Sound, the crowning jewel of Fiordland National Park, is renowned as having some of the best scenery in all of New Zealand, if not, the world.  So much so that it was described by legendary British author, Rudyard Kipling, as being the 8th 'Wonder of the World. 
Today there really is no doubt that Milford Sound offers unsurpassed beauty and an experience that is uniquely Kiwi.  Though hundreds of thousands visit each year, this national park maintains a sense of untouched beauty and wilderness. 
Unsurprisingly, the region's surreal beauty and rugged landscape has provided the perfect backdrop for many iconic films, including the legendary Lord of the Rings trilogy.  As impressive as Fiordland National Park is on the big screen, it is even more striking in person.
With cascading waterfalls, mirror-perfect reflections, towering mountain ranges and a wide range of native flora and fauna, this is a part of Aotearoa that everyone needs to see – and we can help get you there in complete comfort.
JOIN US ON A TOUR TO MILFORD SOUND
Tours to Milford Sound/Fiordland from Queenstown
Tours to Milford Sound/Fiordland from Te Anau
Kreig was an amazing tour guide!! We had great fun on the way to Milford Sound with plenty of laughs, photo stops and the overall pace of the trip was perfect. He was a wealth of knowledge and really made us fall in love with New Zealand, the people and the culture. Thank you so much Cheeky Kiwi and Kreig for the wonderful experience! We will definitely come back and go on another tour with you guys!!
MILFORD SOUND – DISCOVER THE BEAUTY OF FIORDLAND
Where is Milford Sound?
Milford Sound is situated within Fiordland National Park in the South Island of New Zealand.
It takes approximately 4 hours to drive from Queenstown to Milford Sound or 2 hours from Te Anau. 
Our Milford Sound tours depart from both of these locations before heading up into Milford Sound through the Homer Tunnel.  With such stunning landscape enveloping the road, the drive really is half the fun.
What to Expect on the Drive from Te Anau to Milford Sound
The drive into Milford Sound is one of the most scenic in all of New Zealand – especially the part of State Highway 94 that runs from the top of Lake Te Anau to Milford Sound.
Along the way, there are a number of memorable stops so it's important to allow plenty of additional time for the drive in.  By travelling with us, you don't need to worry about how long you should spend in each location – we've got that all figured out.
Is it Safe to Drive into Milford Sound?
The road into Milford Sound can be somewhat treacherous for uninitiated drivers, especially during the wintertime.  
Our driver guides are all highly qualified and experienced – they know these roads like the back of their hands.  For this reason (and so many more), we recommend joining one of our tours.  Doing so will allow you to sit back, relax and really take in the beauty around you.
Because there's nothing worse than being in the middle of such immense beauty and having to keep your eyes glued to the road!
The Best Stops on the Drive into Milford Sound
There are countless places to stop on the drive into Milford Sound – the majority of which are included in our small-group tours (plus some).
The following are some of the top attractions, according to both our guides and guests:
Eglinton Valley – This valley follows the path of an ancient glacier that once carved its way through Fiordland.  It is one of the first major attractions you'll see as you enter the national park and a sign of the beauty that is yet to come.  If you're a fan of Lord of the Rungs, be sure to have your camera ready – this is one of the first glimpses for the landscape that you'll be so familiar with.
Mirror Lakes – The Mirror Lakes are one of the most incredible stops on the way into Milford Sound.  On a still day you'll enjoy picture-perfect mirror reflections of the Earl Mountains in these small lakes – the illusion can be so impressive that it's almost impossible to tell which way is up!  This stop is right beside the road, making it accessible, even for passengers with limited mobility.
Pop's View Lookout – This lookout provides elevated views of the divide in the Southern Alps, close to the start of the Routeburn Track. Regardless of the weather, it's worth hopping out of the van to enjoy panoramic views like this! 
Hollyford River & Falls Creek – Falls Creek is the first impressive waterfall you'll see on the drive from Te Anau to Milford – it is the first of many though.  Feeding into the Hollyford River (which itself is full of large boulders and rapids), this waterfall is dwarfed by the mountains looming in the distance. Keep your eyes peeled through this part of the journey for stunning glaciers that start to peek through the mountain ranges.
The Chasm – A popular stop on drive along Milford Road, the Chasm includes a spectacular bush walk to views of powerful waterfalls and rocks that have been worn away over the years by water.  Be sure to grab your camera for this stop!
Homer Tunnel – Construction of this hand-built tunnel began in 1935. The tunnel itself provides the only road access in and out of Milford Sound and comes complete with its own incredible history.  Emerging from the tunnel, the valley descends sharply towards Milford Sound and, on a rainy-day, you will see hundreds of waterfalls cascading down the mountain side.  Keep your eyes peeled too as cheeky resident kea are sometimes found in front of the Homer Tunnel. Indeed, this tunnel and views on either side are a real highlight of the journey!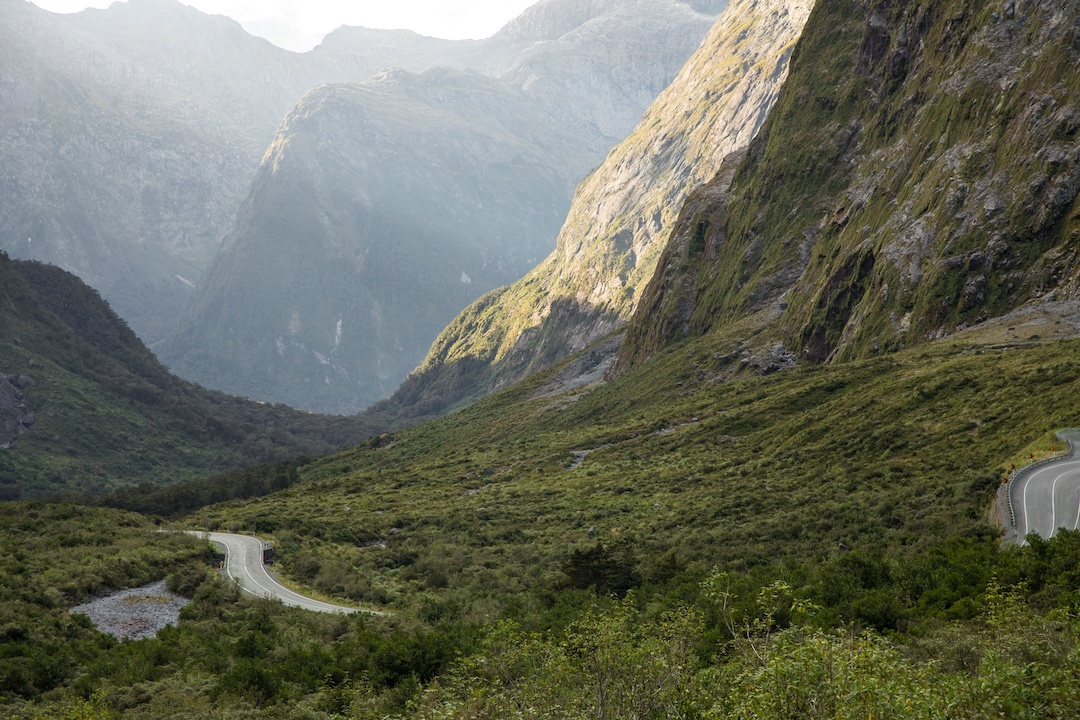 Welcome to Milford Sound
Discover Milford Sound from the Water, Air or Land
There are many ways from which to enjoy Milford Sound – each come with their own unique benefits.
Land: Upon arriving at Milford Sound, you'll notice beautiful views out to Mitre Peak.  This mountain rises to 5,560 feet (1,690m) and has a distinctly recognisable form.  The foreshore and water in front of Mitre Peak make the whole scene picture-perfect, so be sure to have your camera ready.
Water:  Milford Sound absolutely has to be experienced on the water onboard a cruise.  On a boat, sitting just atop the water, the true scale of the fiord comes into perspective.  Milford Sound is a world-class natural attraction for good reason, and there's no better way to experience it.
From the water you'll get front-row seats to cascading waterfalls, dominating mountain ranges and the inky water below.  Enjoy both the captain's commentary and that of your Cheeky Kiwi guide as you learn from the best in the business.
Throughout your cruise be sure to keep your eyes peeled for Fiordland's much-adored wildlife.
Did you know? All of our Milford Sound tours come complete with a sailing on Cruise Milford (the most incredible family-run business).  We consistently receive impeccable feedback from our guests and would love to take you onboard. 
Should you wish, we are also able to get you right on the water – why not see Milford from a kayak too?
Air:  Though we love seeing Milford from the water, we also highly recommend taking to the air and seeing the national park from above.
We are able to include either a helicopter or plane flight for you on the return leg of your tour.  This not only gets you back to Queenstown in record-time but also provides you with the most incredible scenic views.
We recommend combining both the cruise (which is included in all of our tours) and a scenic flight (an optional extra) to see the absolute best of Milford! After all, a bucket list destination deserves a once-in-a-lifetime experience.
Witness Milford's Unique Wildlife
Whilst cruising through the fiord, you will come across a range of fascinating native marine wildlife – some of which is only found in this region.
It is not uncommon, for example, to see a colony of New Zealand fur seals sunning themselves on the low lying rocks.  Perhaps you'll even pods of dolphins, playfully riding the bow of the boat. If you are in luck, you may even spot the rare resident penguins on their occasional excursion – Milford is home to both the little blue penguin and the Fiordland crested penguin.
Amid the stunning scenery of Milford Sound, this remarkable marine wildlife is another reason to keep your eyes wide open and your camera at the ready.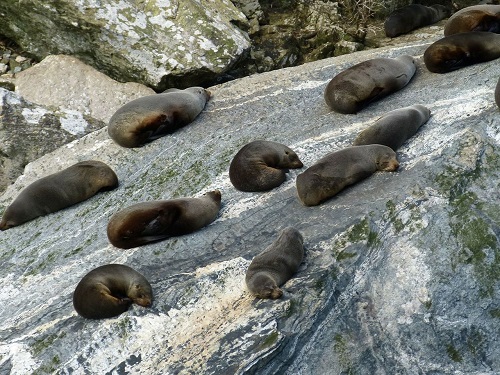 See the Mighty Tasman Sea Onboard Your Cruise
Your boat cruise of Milford Sound provides countless memorable sights from the perfect vantage point – the waterways themselves. One of these is an unusual view of the great Tasman Sea that lies beyond the rugged mountains enveloping the sound. 
Entering a narrow section of the fjord, you will suddenly find the vast Tasman Sea before you. At this sight, it will become obvious why Captain Cook's pioneering crew missed the entrance to the fjord when they first sailed past it in the late 1700's.
If weather permits, your captain will take you out of the shelter of the fiord and into the Tasman, before returning for the homeward journey.
Forget the Rest, Callum is the Best!
We used Cheeky Kiwi Travel today and Callum is the best! Absolutely hilarious, down to earth, informative and everything you could want in a tour guide. Had the most amazing trip of our life to Milford Sound. Small groups so you're not lost in the crowd or just another number and heaps of chances for pics. After using previous tour companies, Cheeky Kiwi Travel is now our only choice for today. And make sure you request for Callum. 10/10. Highly recommended!
Is Milford Sound Best Seen in the Wet or Dry?
Regardless of the weather Milford Sound is breathtaking.  
Though different weather conditions bring different experiences, one is not better than the other.  In fact, we recommend seeing Fiordland in both settled and wet conditions if possible, as they both really are spectacular in their own right.
A Rainy Day at Milford – Something to Celebrate
Do not let possible rain put you off when planning a trip to Fiordland!
As one of the wettest places on Earth (and the wettest in New Zealand), it's a good thing that the region is spectacular in the rain.
First of all, the cruise boats offer complete shelter from the elements (and tea, coffee and biscuits, if you do need to warm up after braving the rain). 
In addition, you'll be able to choose just which stops you venture out of our van – opting to stay dry inside if you'd prefer.  We do recommend bringing a rain jacket and umbrella though – after all, it's not every day you find yourself right in the middle of the most beautiful place on Earth!
In the fiord, many are surprised to learn that there are only two permanent waterfalls in the fjord – Lady Bowen Falls and Stirling Falls. The latter is three times the height of Niagara Falls and a breathtaking sight to behold.
When it rains though, hundreds of temporary waterfalls explode into life.  Not only do they cascade down the fiord, but they also feed into Lady Bowen Falls and Stirling Falls, making them even more powerful!
With waterfalls springing up faster than you can count, and the rainforest lush thanks to the downpour, this is Milford at its best.
Sunshine Galore – Have Your Camera at the Ready
Though we adore Milford in the rain, there are a few advantages to venturing into the fiord on a calm, still day.
When the wind is low and there's no sign of rain, turn your eyes to the water.  
Milford produces the most amazing mirror reflections – just like you'll see at the Mirror Lakes, but better!
Watch as the mountains and forests reflect back on themselves.
This mind-bending optical illusion will have you wondering which way is up and marvelling at the beauty of the national park.
And of course that's not to mention the added bonus of a sunny day – you won't get wet!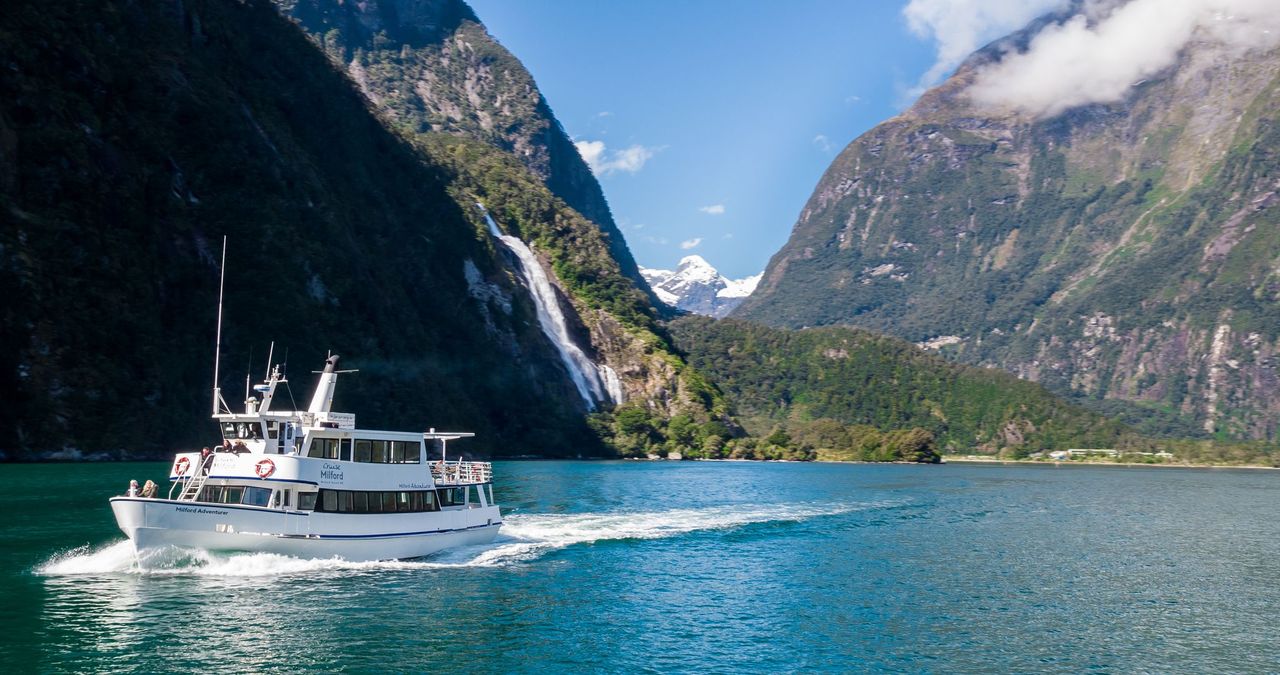 FUN FACTS ABOUT MILFORD SOUND
Milford Sound is not actually a sound – it was incorrectly named and is actually a fiord.

Both of these geographic features are flooded by the sea  – the difference is in how they're formed in the first place.  A sound is formed when a river valley is flooded whereas a fiord is a glacier-carved valley.

Milford Sound is part of a UNESCO World Heritage site.

These sites are located all around the world and are recognised as having outstanding natural or cultural value.  Milford Sound is just a part of the World Heritage site that's known as Te Wāhipounamu – the other national parks in this collective are

Aoraki

Mount Cook, Mount Aspiring and

Westland Tai Poutini.

It's one of the wettest places on the planet and the wettest in New Zealand.

Each year the region gets almost 7,000mm of rain, spread across 200 or so days.  What's more, the soggiest day in Milford clocked in at an incredible 250mm!

Rain or shine, Milford is stunning.

When the weather is calm, you'll be treated to picture-perfect mirror reflections on the water. When it's wet, temporary waterfalls spring to life.

There are only two main permanent waterfalls in the fiord. 

Lady Bowen Falls (which is 162m high) and the Stirling falls (155m high). This is surprising when Milford is so well-known for its waterfalls – most of these are only visible when it's raining.

Milford Sound is known as Piopiotahi in Te Reo Māori

– this means 'one piopio'. The piopio (which was a native bird that is now extinct) is linked to Māori mythology. It is believed that a single piopio flew into Milford Sound whilst mourning the death of Maui, giving the region its name.

There is a permanent population in Milford – but it's only around 120 people

. This number fluctuates slightly due to tourism and is largely made up of people who work in the industry, along with those in conservation.  Those that live in town are fairly isolated – there are no shops or mobile coverage.

The Lady Bowen Falls provides both electricity and water to the village

.  Though it is the tallest waterfall in Milford, it is important to locals for the role it plays in supporting their infrastructure.

Approximately 1,000,000 people visit Milford Sound each year!

Don't worry though – it still maintains the untouched beauty that it's celebrated for.

The water in Milford is a dark, inky colour –

there are a number of reasons for this. First of all, the fiord is incredibly deep.  The fiord also has two distinct layers of water; 6m of tannin-stained freshwater sits on top of the ocean water, further blocking the light.

A surprisingly large amount of wildlife call Milford Sound home. 

There you'll find more than 60 bottlenose dolphins, native fur seals, penguins, blue ducks (whio), takahe and kea, along with many more.

This is the only fiord in Aotearoa that is accessible by road

. Construction of the Homer Tunnel started in 1935 and took 19 years to complete. The tunnel is now one of the highlights of the drive in.  Join us on tour to see the Homer Tunnel for yourself!
Tours Including Milford Sound  
Additional Tours & Activities including Mt Cook &/or Lake Tekapo
Photo credit: Graeme Murray