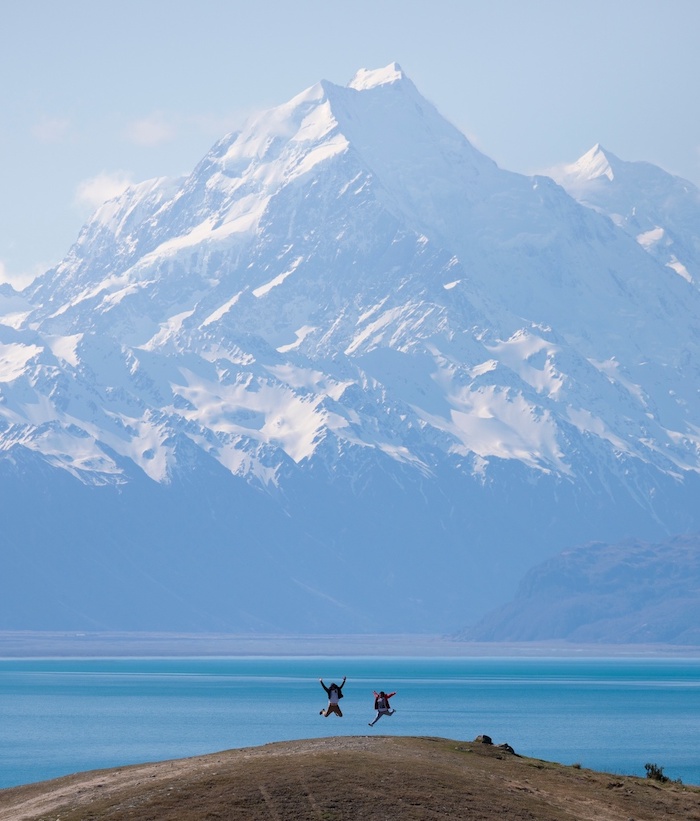 Mount Cook National Park is one of the country's most popular tourist destinations.  Home to the highest mountains in the country, this region is beautiful beyond compare.
Mount Cook, the highest mountain in New Zealand, stands proudly amongst the Southern Alps.  This area offers so much more than its namesake mountain though – Mount Tasman, the Tasman Glacier, Hooker Lake and Lake Pukaki are all waiting for you to explore.
Visitors to the Mount Cook National Park are spoilt for choice.  You might take in one of the many spectacular scenic walks or book a helicopter ride to view mountains and glaciers from above. Alternatively, simply take in the jaw-dropping views through the windows of your preferred restaurant or tavern whilst you savour a delicious meal. 
Whether it's scenic sightseeing or a hands-on alpine adventure you're looking for, Mount Cook has it in spades.
This world-class alpine wonderful needs to be at the top of your New Zealand travel itinerary – and we can get you there on our award-winning small group tours!
JOIN US ON A TOUR TO MOUNT COOK NATIONAL PARK
Tours to Mount Cook from Queenstown
Tours to Mount Cook from Christchurch
WELCOME TO MOUNT COOK NATIONAL PARK
Mount Cook National Park, home to the tallest mountains in New Zealand, was established in 1953. 
Officially recognised as a UNESCO World Heritage Site, a visit to this incredible region is a must for visitors to Aotearoa.
Where is Mount Cook?
Mount Cook is located near the centre of the South Island, within the Canterbury region.
It is approximately 3 hours from Queenstown, 1 hour from Lake Tekapo and 4 hours from Christchurch, by road.
We can get you there in comfort on tours from Christchurch and Queenstown.  Alternatively, join us on a tour from Queenstown to Christchurch via Mt Cook.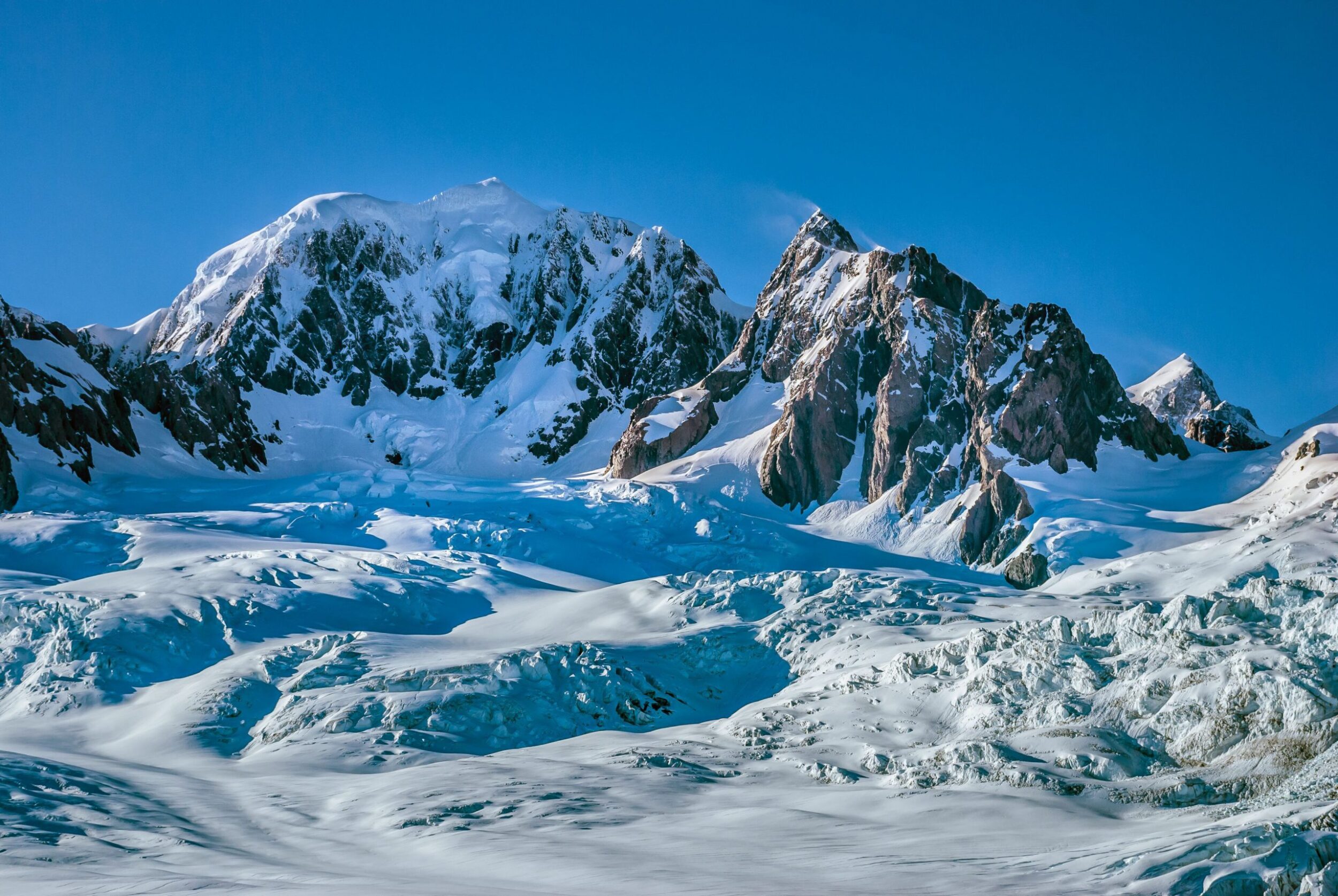 Mount

 

Cook

 and Lake Tekapo – INCREDIBLE
This was definitely the best day tour I've ever done. Mark and Dan were absolutely fabulous. I proposed to my girlfriend during the tour, without planning anything with the Cheeky Kiwi staff. Once Mark and Dan realized what had happened during the tour, they were able to make the day even more special, including a big surprise that they planned during the tour itself. I have no words to describe how professional, friendly and committed these guys are. I recommend them 100% and I feel lucky visiting

Mount

 

Cook

and Lake Tekapo with these guys. Very well organized, comfortable van and unforgettable views. This is a very premium service.
THINGS TO DO IN MOUNT COOK NATIONAL PARK
THE BEST WALKS IN MOUNT COOK NATIONAL PARK
The Hooker Valley Track: A Stunning Walk for Everyone
The Hooker Valley Track is the best short walk in Mount Cook National Park. The track is a 10km return trail; for the most part, it is flat and on well-formed trails and boardwalks. Although scenic and adventurous, this walk is suitable for most fitness levels. The trip itself takes approximately 3 hours return.
Highlights include three suspension bridges, the famous Hooker Valley Boardwalk and of course those million-dollar views! Expect to marvel at magnificent views of Mueller Lake, Mueller Glacier, Hooker Lake and Mount Cook itself.  
Regardless of the season, the Hooker Valley Hike is stunning. Our favourite season is winter though, when Hooker Lake is littered with icebergs.
And best of all? There's enough time on our Mt Cook tours to complete this world-class day hike.
The Blue Lakes and Tasman Glacier View Walk
The Tasman Glacier is an impressive 23.5km long and up to 3km wide. Though many choose to see it from the sky, it's also possible to view the mighty Tasman Glacier by land – just take the short walk that starts at the Blue Lakes Shelter.
This 40-minute return walk meanders up past the lakes to a fantastic viewpoint on the moraine wall. There, you'll enjoy views out over the lower Tasman Glacier to onto the Southern Alps.
In the summertime, it's even possible to detour off the track for a swim in the lakes. Be warned though, they're not exactly warm – even in the summer season, you'll often see icebergs there. By the time winter hits, the lakes freeze over entirely.
This popular walk always receives rave reviews. It is especially popular with people staying in Mount Cook National Park for a few days.
Sealy Tarns: The Stairway to Heaven
Sealy Tarns is a real favourite amongst Kiwis and travellers alike! Nicknamed the 'stairway to heaven, it's a tough slog up 2,200 steps – in total, gaining 600m in elevation – but, for those that take on the challenge, it's more than worth it.
The freshwater lakes of Sealy Tarns are beautiful and on a calm day, they reward hikers with incredible mirrored views of the surrounding mountain range.  From the summit of the track, you'll find yourself looking down on the Hooker Valley – another of the most memorable hikes in Mount Cook National Park.
Should you visit Sealy Tarns in the summer, you'll enjoy masses of alpine flowers along the way too!
This is a 5.8-kilometre round trip but due to the elevation gain, takes most people between 3 and 5 hours to complete.
Though it's challenging, it certainly is beautiful.
TAKE TO THE AIR & MARVEL AT THE TASMAN GLACIER
The Tasman Glacier is the largest glacier in New Zealand and one that really should be seen! At 23.5 kilometres (14.6 miles) in length, this glacier remains impressive despite shrinking considerably from the 1990s onwards.
The best way to explore the glacier is by air with a scenic flight.  Fortunately, there are a number of memorable ways to take to the air in Mount Cook National Park – all onboard our partner, Mt Cook Ski Planes and Helicopters.
By Air:  Fly in a helicopter or ski plane – both of which include snow landings and the most incredible aerial views. If even possible to fly in via helicopter and out on a ski plane!
Heli Hike:  For the truly adventurous, we highly recommend joining a heli hike. You'll be transported onto the ice by helicopter before exploring crevasse and the ever-changing face of the Tasman Glacier. It really is a bucket-list experience!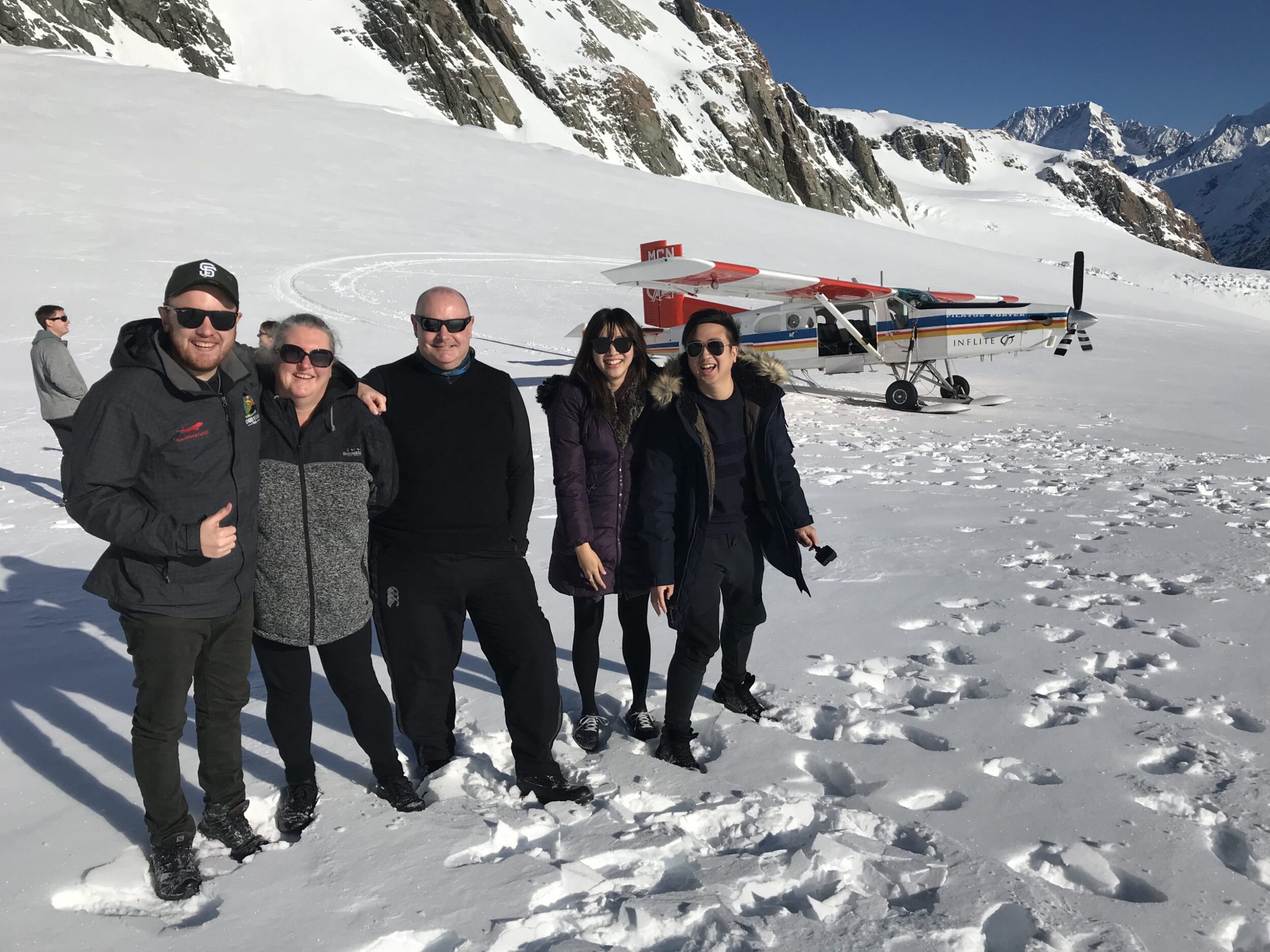 TAKE A LEAP OF FAITH – SKYDIVE AT MT COOK NATIONAL PARK!
New Zealand is known as the adventure capital of the world, so for adrenaline-junkies, there really is no better place to jump out of a perfectly good plane!
With  Skydive Mt Cook's professional, friendly jump team, an impeccable safety record and views that are second-to-none, Mount Cook is the perfect place to skydive.  Choose your preferred height: 9,000ft, 13,000ft or 15,000ft.
Let us take you on the adventure of a lifetime.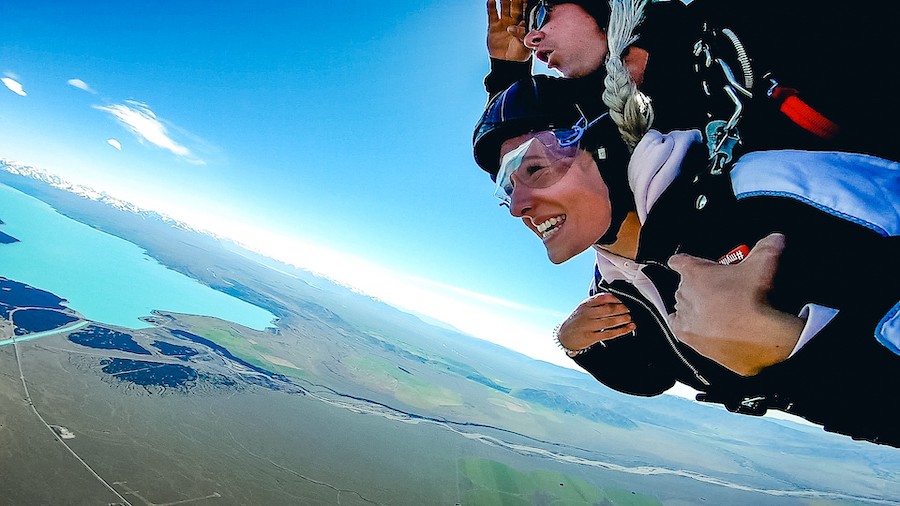 FUN FACTS ABOUT MOUNT COOK NATIONAL PARK
Fun Facts about Mount Cook National Park:
The Mount Cook National Park encompasses 722 square kilometres of land.

An incredible 40% of this surface consists of glaciers.  

Eight of the twelve largest glaciers in New Zealand are found in this national park.

New Zealand's two largest mountains are found in this national park – Aoraki Mount Cook and Mount Tasman. Both are a part of the Southern Alps.
Learn about Aoraki Mount Cook:
Mount Cook's traditional Māori name is Aoraki, which means 'Cloud Piercer'.

At 3,724 metres above sea level, it is New Zealand's highest mountain.

Thanks to its high altitude, it was the place where the renowned Sir Edmund Hillary trained for his Everest adventure.  Whilst visiting the national park, you're able to visit the Sir Edmund Hillary Visitor Centre which is a tribute to this great mountaineer.
Awesome Day Trip!
I loved this tour! Our guide, Lance, made it a wonderful experience for everyone. He is very knowledgeable, entertaining and easy to talk to. He also gave us plenty of opportunities to stop for photos, breaks and refreshments. It is a long day, but the spectacular scenery the whole way makes it well worth it! Walking the Hooker Valley Track was an amazing experience too. I would definitely book with Cheeky Kiwi Travel again. Thanks for an awesome day 🙂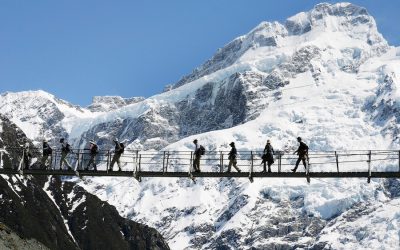 Discover the best short walks Mt Cook offers up - each of them are well worth checking out. Mount Cook National Park is a bucket list destination for travellers and New Zealand locals alike. Home to incredible views, alpine adventures, a range of exciting activities...
read more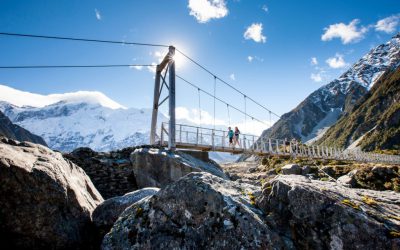 Find the best Mt Cook accommodation to make your stay in one of the most beautiful national parks in New Zealand even better. Mount Cook is famed for its incredible natural beauty, adventurous activities, spectacular walks and clear night sky. Though many choose to...
read more
Additional Tours & Activities including Mt Cook &/or Lake Tekapo
Photo credit: Will Patino