Tamatea / Dusky Sound Project – Resolution Island
Cheeky Kiwi Travel is deeply passionate about the beautiful and awe-inspiring landscapes in New Zealand, as well the native wildlife that inhabit them.
We're dependant on the preservation of New Zealand's natural beauty and wildlife to sustain our business and to keep doing what we love – and that's showing off this place we call home!
Cheeky Kiwi Travel  is proud to partner with the Tamatea / Dusky Sound Project and provide sponsorship for the development of the Resolution Island trapping network.
Read on to find out more about the Tamatea / Dusky Sound Project and learn about the conservation work on Resolution Island that we are supporting.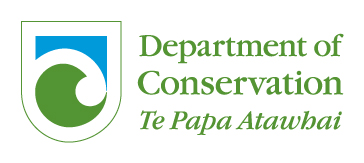 Tamatea/Dusky Sound is a place rich in both Māori and European history, but its geographical isolation has helped it remain one of the least modified areas of New Zealand. Its lush native bush is home to an array of native wildlife, including some of our most iconic species – kākāpō and kiwi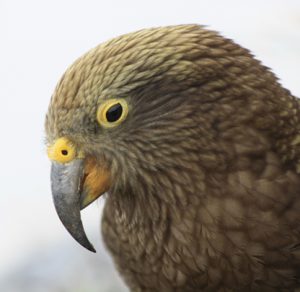 In its current state Tamatea/Dusky Sound is an outstanding conservation resource, providing sanctuary for many vulnerable native species. The vision is for Tamatea/Dusky Sound to be one of the most intact ecosystems on Earth and a source of endangered native species that can be sent to pest free locations across New Zealand.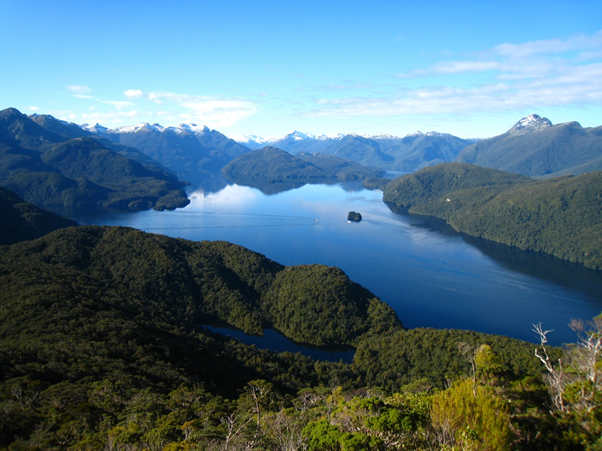 Tamatea / Dusky Sound
Located on the wild and remote Fiordland coast, Tamatea/Dusky Sound has a rich human history but light human footprint. Isolation has allowed it to remain one of the least modified parts of New Zealand. Many islands have never been invaded by pests and act as sanctuaries for threatened native species.
Photographs courtesy of DOC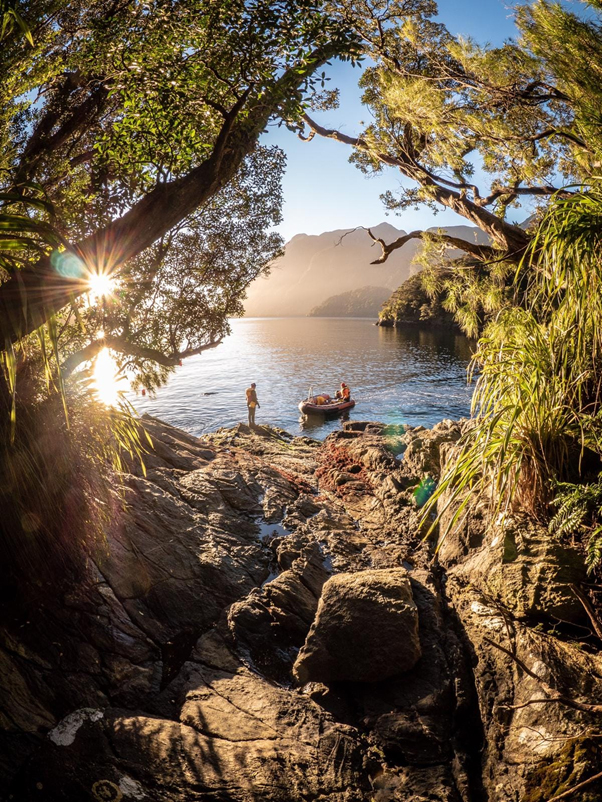 Photograph by Mat Goodman
Resolution Island is New Zealand's fifth largest island with an area of 21,000ha. It has always been at the forefront of conservation and considered the birthplace of New Zealand conservation. Richard Henry, New Zealand's first conservation ranger, established the island as one of the world's first conservation sanctuaries. It was here that the foundations of how we do conservation in New Zealand were laid.
At present, Resolution Island is possum and rat free, but sadly stoats remain on the island. Work on eradicating stoats from the island started in 2008 and stoat numbers are now maintained at very low levels thanks to the extensive network of 230km of tracks and 2350 traps. However, there are still areas of the island that need traps installed to finish the network and ensure the island is protected from stoats.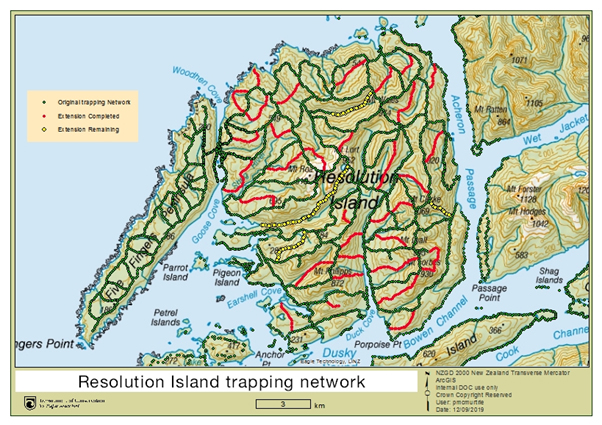 The resolution island trap network. 
Yellow lines denote the four remaining traplines needed to finalise the network.
MAKE A DONATION TO THE DUSKY SOUND PROJECT
Help DOC in this worthwile cause by providing a donation.  Click the button below to donate any amount of your choosing to this project.