Hobbiton – The Movie Set for the "Lord of the Rings" Trilogy
For any "Lord of the Rings" fan, the Hobbiton movie set and surrounding town is a must see. The rolling hills and lush green pastures featured in the iconic film trilogy are a testament to New Zealand's enchanting beauty. They also make a stunning backdrop for the film version of the epic Middle Earth adventure first penned by JRR Tolkien. Hobbiton's movie set itself includes vivid recreations of the legendary places featured in the beloved fantasy trilogy. With its meticulous attention to detail, Hobbiton will make you feel that you truly are inside the tale. Best of all, Hobbiton is a convenient day trip destination from Auckland. From the pastoral country setting to the charming hobbit homes, inns, cafés and shops, this is an adventure you do not want to miss. 
The Waikato region, a picturesque setting for Hobbiton and the Shire
Hobbiton sprung up on the stunning 1,250 acre Alexander Family Sheep Farm in the heart of the Waikato region. When director Sir Peter Jackson was scouting locations for filming, he handpicked this tranquil beauty spot. "Lord of the Rings" fans will agree that the peaceful green pastures make the perfect setting for the Shire. In fact, the area brings to life the quaint rustic scenes described in JRR Tolkien's famous book. With such splendid scenery to enjoy along the way, your journey to Hobbiton will be an experience in itself. From Auckland you can conveniently enjoy our Hobbiton Movie Set Small Group Tour from Auckland. Alternatively, fill a whole day with adventure and add on a visit to nearby attractions like the Waitomo Glowworm Caves, Rotorua and Te Puia or Rotorua and Wai-O-Tapu.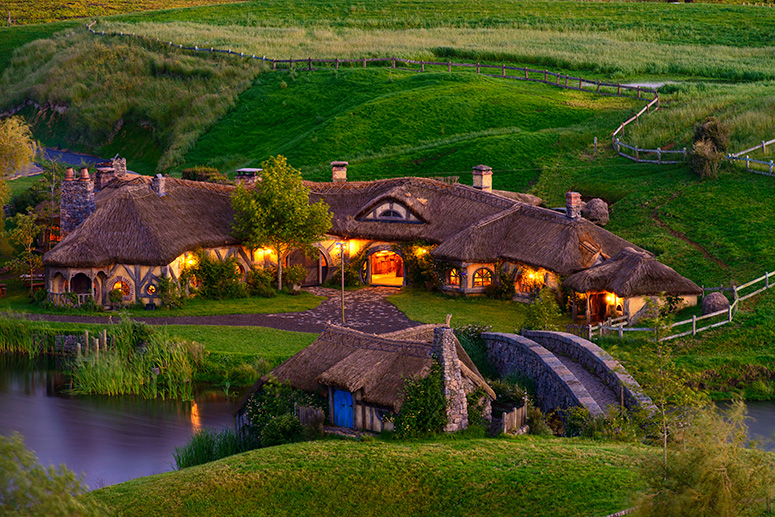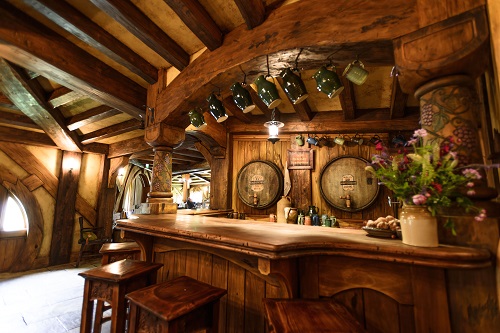 The Green Dragon Inn: Hobbiton's legendary meeting place and pub
One of the tantalising attractions at Hobbiton is the venerable Green Dragon Inn. According to legend, the inn formed a central meeting location for all the residents of Hobbiton. What is more, the quality of the ale was renowned throughout The Shire. But of course, tasting a pint on your own journey to Middle Earth is the best way to judge. When visiting Hobbiton, the Green Dragon Inn is a great place to pause and savour a refreshing beverage. Sample the famous ale from the comfort of your armchair in front of the roaring fire, or while overlooking the enchanting village around you.
Snacks, shopping and souvenirs in the Shire at Hobbiton
Grab a bite to eat in the tranquil garden setting of the Shire's Rest Cafe. As you relax over a steaming cup of coffee, you can order a tasty meal fit for an adventurer. Afterwards, you can stop by the Shire Store at Shire's Rest. Here you can browse through "Lord of the Rings" souvenirs that will remind you of your epic journey to Middle Earth. You may even return from your quest with that one ring to rule them all.