Mt Cook Tour & Heli Hike Combo from Queenstown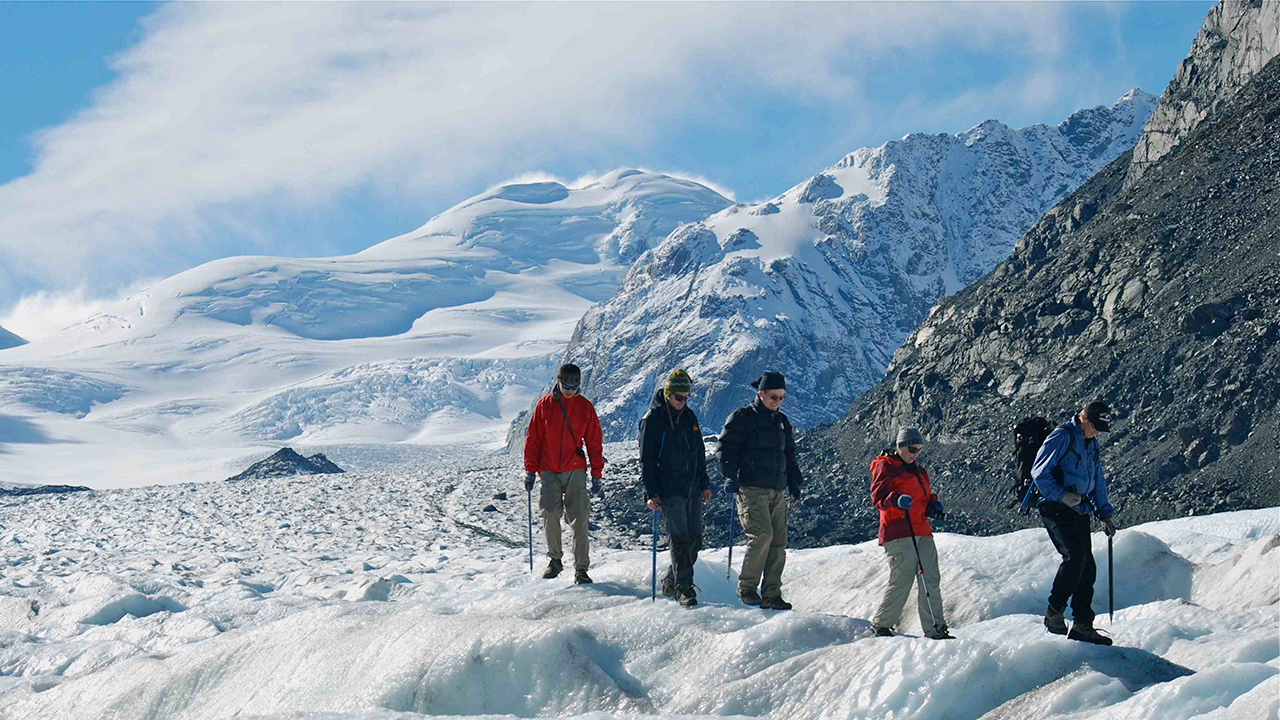 Mt Cook Tour & Heli Hike Combo, this small group, fully-guided day trip combines all of the key highlights of Mt Cook with an incredible Heli Hike on Tasman Glacier including two scenic helicopter flights.

Highlights:

Mt Cook & Aoraki National Park

Tasman Glacier Heli Hike

Lake Pukaki

Kawarau Gorge, Lindis Pass and the Southern Alps

High Country Salmon
Itinerary:

1. Queenstown - Your tour starts in the stunning city of Queenstown. As we drive out of the city your guide will not only set the scene for your adventurous day but also point out and guide you past some of the area's top highlights.
2. Kawarau Suspension Bridge – Departing Queenstown we then make our way through the Kawarau Gorge, passing stunning views, the Kawarau Suspension Bridge and the famous Roaring Meg Lookout. Time and light permitting we will stop for that first great shot of the tour.
3. Cromwell – Exiting the Kawarau Gorge we enter the fruit and wine growing region of Cromwell. Passing huge fields of vines, we cross Lake Dunstan and follow this beautiful lake towards Lindis Pass.
4. Lindis Pass – Climbing in altitude, Lindis Pass has amazing views down through the valleys. Being one of only three alpine roads through the otherwise impassable Southern Alps, we stop at the famous lookout at the top of the pass for an essential photo.
5. Omarama – While driving through the endless plains of the Mackenzie district we will spot several of the famous Merino breed of sheep before stopping at the quaint township of Omarama. While in Omarama we have time for a break or even to try the best creamy chicken pie in NZ (in our opinion)!
6. Lake Pukaki –Turning west we begin to enter the Aoraki National Park and Lake Pukaki begins to emerge in front of us. Lake Pukaki is one of the bluest lakes you will ever see and is stunningly framed by the backdrop of Aoraki/Mt Cook and the Southern Alps. We stop for some amazing photos and to marvel at the sight that we are beholding. It's not hard to see why many Lord of the Rings scene were filmed nearby and we will point them out for you.
7. Heli Hike – Next get ready for an adventure of a lifetime with a Tasman Glacier Heli Hike. Combine the excitement of walking on New Zealand's biggest glacier with the stunning scenic helicopter fly-bys of New Zealand's largest mountain, Aoraki/Mt Cook. You will fly to your drop off point on a remote part of the glacier before beginning a guided exploration of the amazing ice formations. Follow your guide as they cut steps in the glacier, using skills handed down from NZ's mountain pioneers. Your trip finishes with another spectacular scenic flight back to our Aoraki/Mt. Cook base.
8. Aoraki/Mt Cook National Park – After your flight we arrive at the Mt Cook Village, weather depending, we should get some amazing shots of the mountain from the ground. At 3724m, Aoraki/Mt Cook is New Zealand's highest peak, however the mountain can be viewed without any acclimatisation whatsoever from the village which is just 750m above sea level.
9. High Country Salmon - Farewelling Aoraki/Mt Cook Village and making our way back to Queenstown we stop in at High Country Salmon, a local salmon farm, where you can feed the fish and taste some of the freshest salmon in New Zealand.
10. Mrs Jones Fruit Stall – During summer months when the sun is still up and as we get close to Queenstown, we often stop at Mrs Jones Suncrest Orchard to try or buy her delicious local fruit or real fruit ice cream.
11. Queenstown – Sadly the tour must come to an end as we re-enter Queenstown and say our goodbyes.
Inclusions:
Small Group

Fully Guided Tour

Tasman Glacier Heli Hike including all equipment

2 Scenic Helicopter Flights

Bottled Water & Snacks
While the destinations you will be visiting are truly spectacular, we at Cheeky Kiwi Travel believe it is our small groups, our guides, the journey and the little details that set our tours well apart. Led by our famously passionate tour guides, notorious for bringing your journey to life by sharing their stories and rich background knowledge, and run in modern, comfortable minibuses packed with extras ensuring your comfort and safety. With secret stops, wildlife viewings, specially designed vehicles, complementary refreshments and many other pleasant surprises ensure our tours are an experience to remember.
For further information on luggage, pickup locations, cancellation policy etc please read our FAQ's