WAITOMO CAVES TOUR
TOUR DETAILS
On this tour you will be picked up from the hotel in our comfortable 12 seater minibuses and driven through the stunning Waikato countryside on a fully guided journey to Waitomo caves.
During the journey to Waitomo you will encounter New Zealand's longest river, beautiful mountains and many different farm animals along the way.
Once in Waitomo you can choose between several of the Waitomo caves or upgrade to Black Water Rafting for a real adventure.
During your chosen cave tour you will explore the ancient and amazing caves seeing many different cave formations including Stalactites, Stalagmites and lime Columns before encountering thousands of the famous Waitomo Glowworms which are unique for New Zealand for over 120 years above your head. Waitomo Glowworm caves are a must see for any traveller.
For those of you that choose the short tour at Waitomo you will have free time after your tour to explore the area and maybe even do one of the walks to add to your experience.
After your Waitomo Caves tour you will also have the option to have lunch in the town or join us at Roselands for a delicious Kiwi BBQ buffet lunch.
After lunch our friendly guides will return you to Auckland pointing out more interesting sites on the way.
Cave Options (Please select your cave option in the tour options while booking)
WAITOMO GLOWWORM CAVES
World-renowned and a magnet for both local and overseas visitors, the Waitomo Glowworm Caves occupy a high placing in the New Zealand vacation wish-list. This tour is a 45 min tour including the famous Glowworm Grotto Boat Ride. On the glowworm grotto boat ride you will marvel at Mother Nature's light display as you glide silently through the starry wonderland of the Glowworm Grotto.
RUAKURI CAVE UPGRADE (Recommended) - Summer only or private tour in winter!
If travelling all the way to Waitomo we recommend upgrading to Ruakuri Cave. The cave offers a captivating blend of Waitomo's most compelling subterranean experiences. Journey down through the spectacular spiral entrance, and marvel at the softly folding shawl-like limestone formations and crystal tapestries. Hear the distant thunder of the subterranean waterfalls and get up close to the glowworms.
Ruakuri Cave is New Zealand's longest guided underground walking tour and an experience that must be seen to be believed. It will leave you open-mouthed, awe-struck and humbled by the sheer majesty of nature.
BLACK WATER RAFTING (Black Labyrinth) UPGRADE - Summer only or private tour in winter!
The original Waitomo black water rafting tour that will have you exploring and tubing through mysterious Ruakuri Cave. Grab a group of mates, some rubber tubes, and let's take you on an unreal underground adventure you will never forget.
Float down the underground river in rubber tubes while admiring the glowworm displays above
Become part of the legend on Waitomo's original legendary black water rafting adventure
Jump into cascading underground waterfalls, reflecting the glowworms above
Enjoy a hot shower and complimentary hot soup and bagels after your tour
Experienced, trained guides will take you safely through the stunning underworl
BLACK WATER RAFTING (Black Abyss) UPGRADE - Summer only or private tour in winter!
For the ultimate in adventure caving tours, look no further than the Black Abyss. You will descend into the black, seemingly bottomless depths of Ruakuri Cave, zipline through a gallery of illuminating glowworms and climb underground waterfalls as you test your limits on this truly unforgettable journey.
The most comprehensive caving experience including an underground flying fox and waterfall climbs
bseil into Ruakuri Cave down a 35-metre tomo (hole)
Test yourself on this ultimate caving adventure
Enjoy a hot shower and complimentary hot soup and bagels after your tour
Experienced, trained guides will take you safely through the stunning underworl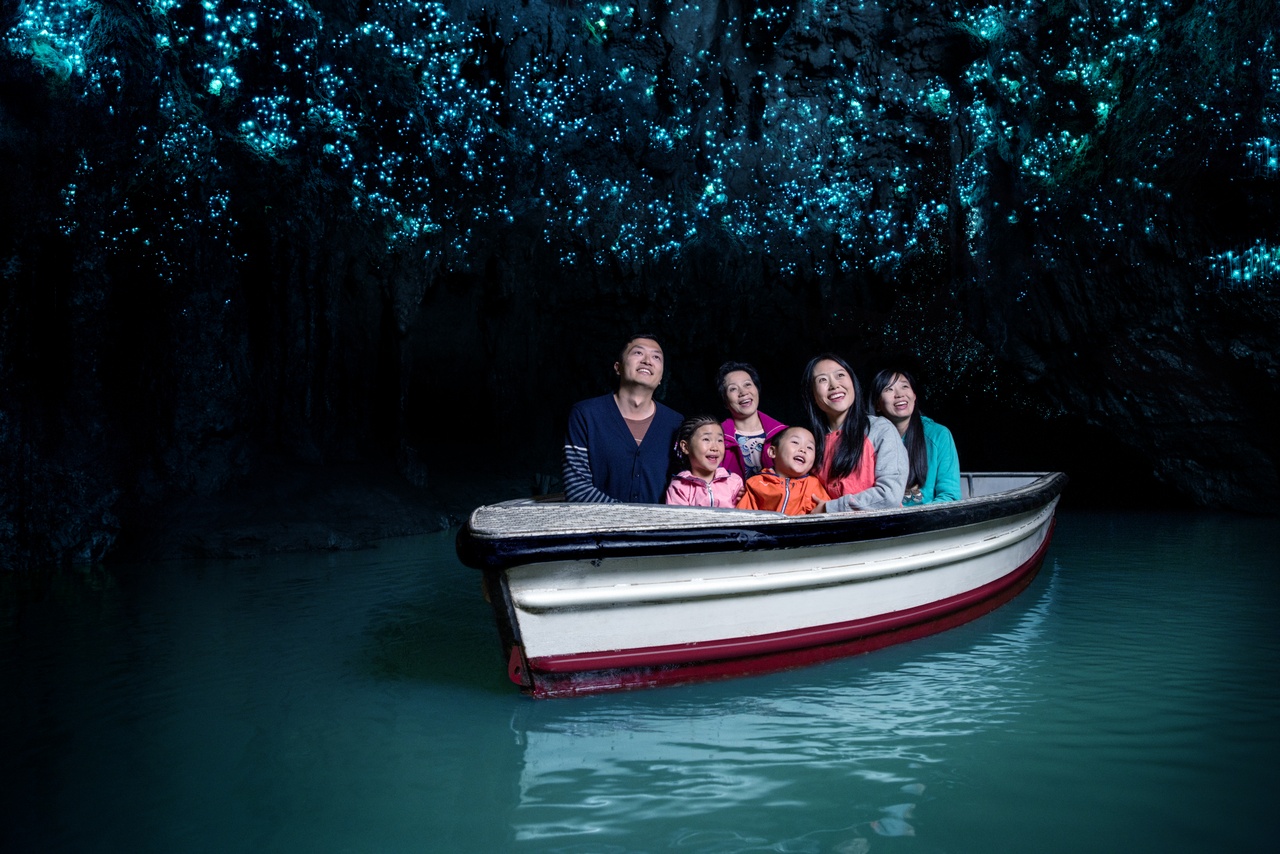 TOUR INCLUDES:
CBD Hotel/airport pick up and drop off
Refreshments
Beautiful scenic drive through the New Zealand countryside
Professionally guided tour about New Zealand and the culture
Entertainment during drive
Entry ticket
Guided tour of Waitomo Caves including a Glowworm Grotto boat ride
Multiple stops to purchase food, buy souvenirs or take photos
Guided tour back to the Hotel
OPTIONAL EXTRA:
Upgrade to the Black Labyrinth - 3 hrs trip for $99pp extra (select during booking process)
Upgrade to the Black Abyss - 5 hrs trip for $199pp extra (select during booking process)
Upgrade to Ruakuri cave for $50pp extra (select during booking process)
WiFi on Transport available at additional cost (select during booking process)
TOUR TIMINGS:
Pick up: 6am winter, 7am summer
Drop off: 2-4pm depending on traffic and option
8 - 12 hour tour
PAYMENTS ACCEPTED:
Terms:
Tours will only run if at least 4 people have booked on the tour.
Cheeky Kiwi Travel reserves the right to alter the tour due to weather or operational needs.
No refund will be given to tours cancelled with less than 24hrs notice.