Discover the Poor Knights Small Group Tour from Auckland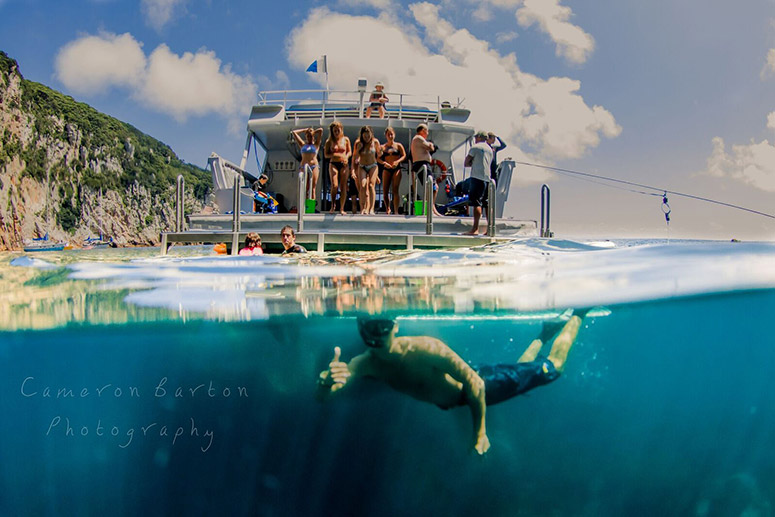 The ultimate Poor Knights Day trip for a perfect day out on the water exploring this amazing World Heritage site. Lunch, snorkeling, paddle board and kayaking equipment supplied and included in the tour price.
Jacques Cousteau named this little bit of paradise one of the top diving and snorkelling spots in the world. With some of the world's best snorkelling, breath-taking scenery, an abundance of marine mammals, the world's largest sea cave plus many other caves, sea birds everywhere, unique flora, rich history, great food, kayaking and relaxing on board a large comfortable boat, this marine reserve trip is one you won't want to miss.
You will be picked up from you hotel before we head north to the stunning Tutukaka coast. A long the way you will be treated to amazing views of New Zealand's east coast beaches, mountains and forests, before arriving at the Tutukaka Marina where your marine journey will begin.
Here you will board a large comfortable launch called 'Perfect Day'! With plenty of indoor and outdoor space and all the equipment and comforts you need this boat certainly lives up to it's name! Once on board you will head out 23 kilometres on an open ocean trip to the islands, encountering marine life on the way.
Once at the island there are many hidden harbours to choose from, so you will always be sheltered and comfortable. Your hosts will take you on a tour to show you the splendour of these islands including a drive right inside the world's largest sea cave. After the tour you can enjoy snorkelling, paddle boarding or kayaking around arches and caves to see this world class marine icon first hand, at water level and all the marine life it is home to.
After some exploring you'll be ready for the delicious buffet lunch, tea and coffee included in your tour, before relaxing or sunbathing on the boat. Then, it's time to head back to shore.
Once on shore your friendly guide will take you to your local accommodation or return you back to Auckland with a few surprise stops on the way to complete your Perfect Day.