Coromandel Wanderer Small Group Tour from Auckland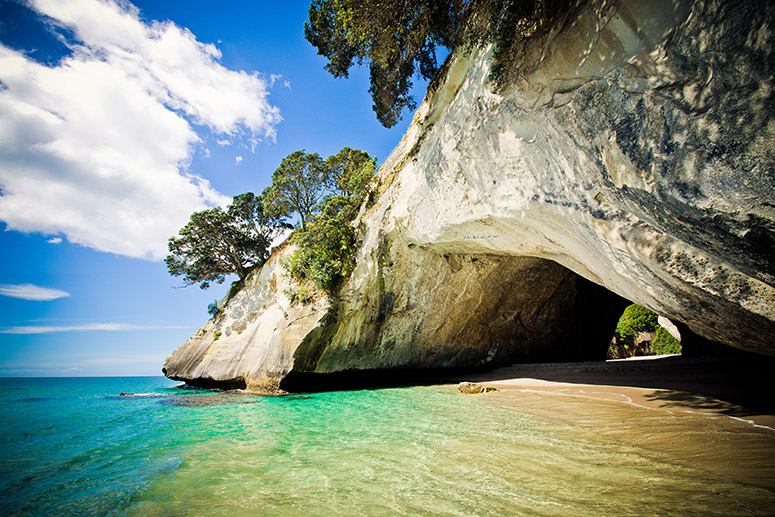 This one-day tour from Auckland will leave you feeling like you just found paradise and you will feel relaxed in no time. Time seems to slow down in this part
of the country, as you experience amazing beaches, famous coves, stunning forests and breathtaking views.
On this tour we will pick you up from your hotel in our comfortable mini bus, taking you on a scenic drive through the New Zealand countryside as we
head to the incredible Coromandel Peninsula. Our first stop will be Cathedral Cove, the spot featuring in The Chronicles Of Narnia: Prince Caspian. Cathedral cove is one of New Zealand's most famous and beautiful beaches and a must do activity for any visitor to New Zealand. There are no roads to this beach so we will need to take a 40 minute bush walk to get there. Once we are there, we can take some time to relax, sunbathe, swim, play sport or just enjoy the spectacular views.
Time for lunch at a great local restaurant where you can try some great local food, and even have a beer if you choose (food and drinks additional cost) .
Our next stop is the famous Hot Water Beach, where you can dig a hole in the sand to create a naturally-heated geothermal water bath. *Tip: Dig your hole at the edge of the beach to allow ocean waves to gently roll in and cool you off occasionally. What could be better than a natural geothermal spa on the beach!
Sadly, after Hot Water Beach it's time to make our way back to Auckland, but not without stopping for a quick ice-cream and some more photos.
Tour Inclusions:
Fully guided small group return tour from Auckland
Hotel pick ups and drop offs (specific central Auckland hotels only)
Beautiful native bush walk to Cathedral Cove
Hotwater Beach bathing & exploring time
Refreshments and snacks whilst driving
On screen entertainment during the drive
Multiple stops to purchase food, buy souvenirs or take photos
Wifi and charging ports available in vehicle
Transport in modern and comfortable minibuses