Northern Gems – 3 Days, 2 nights 
TOUR SUMMARY 
Auckland to Bay of Island, Cape Reinga, 90 Mile Beach and Matakana. 
This tour explores the far north and all the treats it has to offer combining dolphin watching, The Hole in The Rock cruise, Cape Reinga, Wine Tasting, Sand Sliding and Maori culture. Everything you want from a northern holiday.
HIGHLIGHTS
Waitangi Treaty House 
Cape Reinga day tour
Ninety mile beach
Cape Brett " Hole in the Rock" cruise
Kauri Forest
East coast beach tour
Matakana Lunch  
TOUR DATES:
Custom tours leave on your preferred date. Please make an inquiry to book date of your choice or for advice on when is best to come. 
TOUR (ONLY) PRICE 
Adult $1099
Child $935
TOUR WITH ACCOMMODATION PRICE
Cheeky Kiwi can arrange accommodation for you at discounted prices for 4 star hotels and motels or you can book your own to save money.   
Twin Share Accommodation $1299 per person 
Single Share Accommodation $1499 per person
Group discounts:
5-6 people: 5% Discount, 7-8 people 10% Discount, 9-10 people 15% Discount
*All prices are based on at least 4 passengers per tour. Cheeky Kiwi reserves the right to cancel the tour or add a surcharge if less than 4 passengers are booked.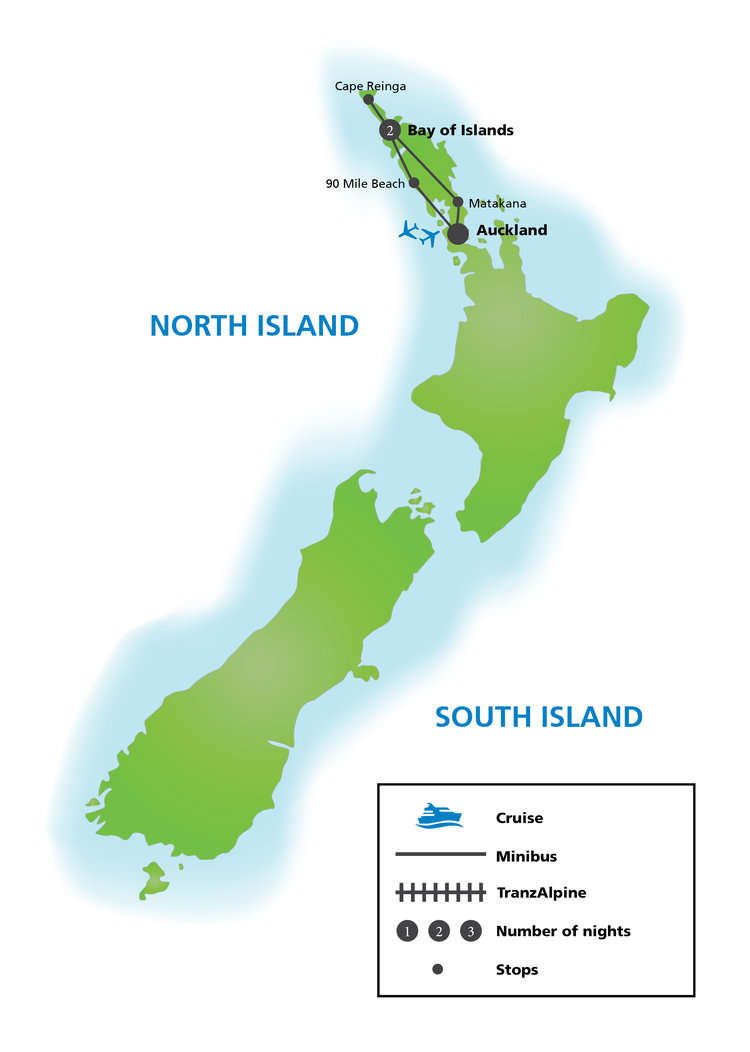 TOUR INCLUSIONS:
Accommodation (Stated level)
Breakfast
Hotel/Airport Pickup
Comfortable 12 seat minibus
Professionally guided tour
Stated activities and entry tickets
Refreshments in minibus
Entertainment in minibus
Wifi Available in minibus (extra)
UPGRADES AND TOUR EXTENTIONS
Receive 10% discount on upgrades/ add on's  
*discount applies to the shortest or lowest price tour. Activities booked through Crew Adventures will receive a 5% discount while on tour. 
Itinerary
DAY 1: AUCKLAND TO PAIHIA TOUR WITH HOLE IN ROCK CRUISE
6am Hotel/ Airport pick up. From Auckland we head north to the beautiful Bay Of Islands. Upon arrival we will visit the the historic Waitangi Grounds, site of the treaty singing between the native Maori and European settlers. While at Waitangi you will get to experience and bit of the culture, see the Maori meeting houses, architecture and the large war canoe. After Waitangi it's time for the Discover the Bay Cruise to the famous hole in the rock and luck permitting some dolphin watching. During the curise you will also be treated to a BBQ lunch on the stunning Otehei Bay before returning to Paihia.
Included Activities: Discover the Bay Cruise, BBQ Lunch, Waitangi Grounds
Optional Activities: Russell tour & Dinner ($20 per person + Dinner)
DAY 2: CAPE REINGA DAY TOUR
Today we head to the very top of New Zealand! Walk out to the Famous lighthouse and be in awe of where the Tasman Sea and Pacific Ocean collide. Next we take advantage of the massive sand dunes to have some fun sand sliding or just exploring. As we slowly make our way back down the country we will stop at 90 mile beach and the ancient Kauri forests. Picnic Lunch included.
Included Activities: Cape Reinga tour, sand sliding, 90 Mile Beach, Kauri Forest
DAY 3:

 

PAIHIA TO AUCKLAND TOUR WITH WINE TASTING AND EAST COAST EXPLORING
Today you have some free time in the morning to explore Paihia before we head south again. While heading south we will stop at a wonderful little town called Matakana so you can enjoy some beautiful vineyards or grab something to eat (food or wine tasting is extra). We will then spend some time exploring an east coast beach before heading back to Auckland and the end of your tour.
Included Activities: Vineyard visit and tasting, east coach beach tour
Optional Activities: Vineyard Lunch