North Island Explorer – 6 Days, 5 nights 
TOUR SUMMARY 
Auckland, Waitomo Caves, Hobbiton, Coromandel, Tauranga, Rotorua, Taupo, Napier, National Park and Wellington.   
This tour is the true explorer of the North Island taking you to all our favorite locations. The tour includes Waitomo Caves, Hobbiton, Coromandel, Catherdral Cove, Tauranga, Rotorua, Taupo, Napier, National Park and Wellington. Combining the best of the North Islands attractions, beautiful beaches/ coastlines, geothermal wonders, vineyards and cities there is no better way to see the best of the north.
Add Northern Gems or our South Island tours at a discount to do a comprehensive tour of New Zealand.   
 HIGHLIGHTS
Waitomo Glowworm Caves   
Hobbiton Movie Set Tour 
Cathedral Cove
Mt Maunganui  
Wai-O-Tapu Geothermal Park 
Tamaki Maori Village and Hungi dinner
Skyline or Polynesian Spa Rotorua  
Lake Taupo cruise 
Hawks Bay Wine Tasting 
National Park Walk
Weta Studios Tour 
Wellington Sights
TOUR DATES:
Custom tours leave on your preferred date. Please make an inquiry to book date of your choice or for advice on when is best to come. 
TOUR (ONLY) PRICE 
Adult $2349
Child $1999
TOUR WITH ACCOMMODATION PRICE
Cheeky Kiwi can arrange accommodation for you at discounted prices for 4 star hotels and motels or you can book your own to save money.   
Twin Share Accommodation $2899 per person 
Single Share Accommodation $3499 per person
Group discounts:
5-6 people: 5% Discount, 7-8 people 10% Discount, 9-10 people 15% Discount
*All prices are based on at least 4 passengers per tour. Cheeky Kiwi reserves the right to cancel the tour or add a surcharge if less than 4 passengers are booked.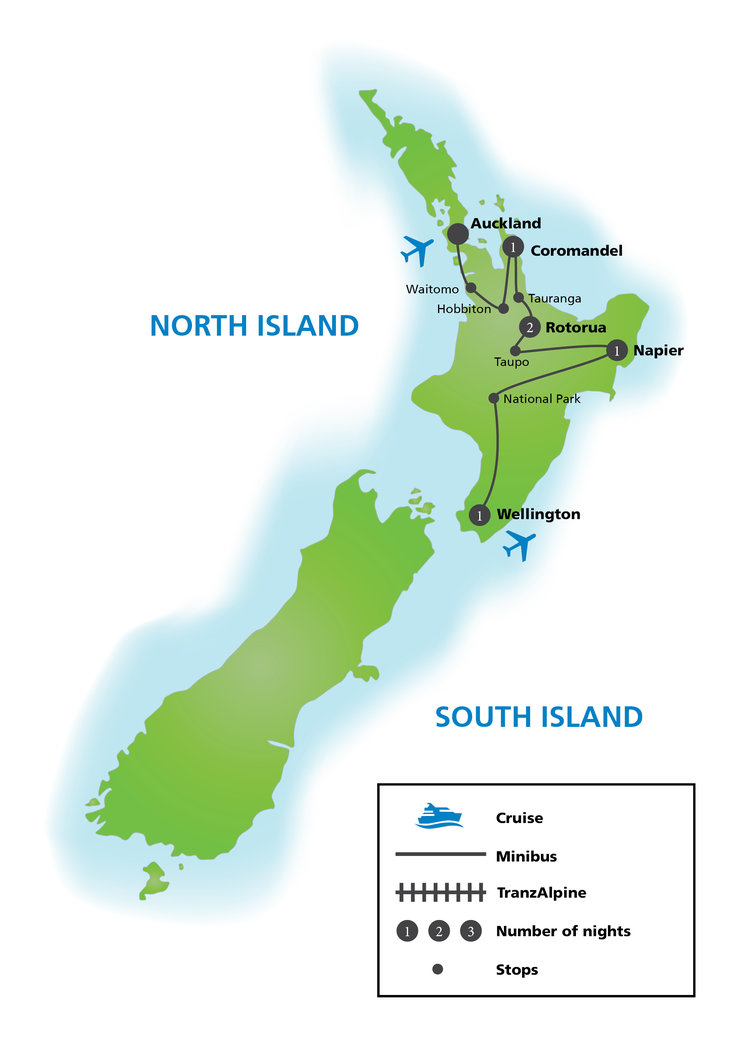 TOUR INCLUSIONS:
Accommodation (Stated level)
Breakfast
Hotel/Airport Pickup
Comfortable 12 seat minibus
Professionally guided tour
Stated activities and entry tickets
Refreshments in minibus
Entertainment in minibus
Wifi Available in minibus (extra) 
UPGRADES AND TOUR EXTENTIONS
Receive 10% discount on upgrades/ add on's  
*discount applies to the shortest or lowest price tour. Activities booked through Crew Adventures will receive a 5% discount while on tour. 
Itinerary 
DAY 1: AUCKLAND TO WAITOMO,

 

HOBBITON AND COROMANDEL.
6am Hotel/ Airport pick up. From Auckland we head South for a action packed day. First Stop is Waitomo caves where you will explore the world famous caves formations and cruise down a underground river with thousands of glowworms above your head. Next we head to Hobbiton for your 2 hour tour of this famous movie set finishing at the Hobbit pub – Green Dragon for a refreshment. Next it's time to cross the country to the stunning Coromandel to check to your hotel for the first night and a included BBQ dinner. 
Included Activities: Waitomo Caves and Glowworm Tour, Hobbiton Movie Set, Coromandel Coast Exploration, BBQ Dinner
Optional Activities: No need for extra's we have your day covered!
DAY 2: COROMANDEL, TAURANGA AND ROTORUA  
Today starts at 8:30 am but is going to be a very relaxing day of nature. We Start with a boat ride to the world famous Cathedral Cove where we get to enjoy some time on the beach to relax, swim in the crystal clear waters or maybe play some sport. Next we head to Tauranga and Mt Maunganui driving down the country next to some stunning coast line and past beautiful forest. In Mt Maunganui you will enjoy free time to walk up the Mt, explore the area and have dinner (ice cream on the beach is a must). After dinner we head to Rotoura to check into your hotel for the night.     
Included Activities: Boat Ride to Cathedral Cove, Beach and Sports Equipment, Coromandel and Bay of Plenty Coastal Tour    
Optional Activities: Snorkeling, Glass Bottom Boat
DAY 3: ROTORUA GEOTHERMAL PARKS, MAORI CULTURE AND SKYLINE OR POLYNESIAN SPA  
Today starts with breakfast at the hotel before leaving at 9am to make our way to one of the most surreal places on earth Wai-O-Tapu geothermal reserve. While at Wai-O-Tapu you will enjoy watching the Lady Knox Geyser erupt, see one of the most photographed pieces of water on earth Champagne Lake  and experience all the other geothermal wonders this surreal place has to offer. From here you have the option between Skyline for lunch with a remarkable view and some adventure on the Luge or relax and rejuvenate at the famous Polynesian Spa. We continue our day with a Rotorua city tour and discounted souvenir shopping before a quick break in the hotel, but the day doesn't finish there. After a short break in your hotel we will head to Tamaki Maori Village for a night of Maori cultural shows and a delicious traditional hungi dinner.  After this we think that's enough for a day and it's time to rest back at your hotel.         
Included Activities: Wai-O-Tapu Geothermal Park, Skyline Gondola and Lunch or Polynesian Spa, Discounted souvenir shopping,  Tamaki Maori Village, Hungi Dinner.        
Optional Activities: Skyline Half Day Adventure – (5 luge rides + Skyswing + Zipline), Polynesian extra spa therapies or massages  
DAY 4: ROTORUA, TAUPO AND NAPIER  
After breakfast in the hotel the day starts at 8:30am with a drive to the southern hemisphere's largest lake, Lake Taupo for a beautiful lake cruise including a visit to the famous Maori carving in the cliff. After to Cruise you will have some free time to enjoy anyone of Taupo's great activities including bungy jumping, jet boating and sailing or just explore this beautiful area. Next we head to the Art Deco capital of the world Napier stopping at a stunning vineyard for dinner. The day comes to an end by checking into one of the famous Art Deco Themed hotels to rest.     
Included Activities: Taupo Lake Cruise, Vineyard Wine Tasting   
Optional Activities: Bungy Jumping, Sailing, Skydiving, Jet Boating, White Water Rafting, Prawn park and fishing 
DAY 5: NAPIER, RUAPEHU AND WELLINGTON
Today is a relaxing start with free time to explore this fascinating Art Deco city. Maybe go to the earthquake museum or the national Aquarium. At 11am we leave for national park where you will see Mt Ruapehu and Mt  Ngauruhoe (AKA Mt Doom from lord of the rings). After exploring some of middle earths dark side our journey continues to New Zealand's capital Wellington. Once in the Capital we will check into your hotel for the final night of your tour and then explore some of Wellingtons sights at night plus have dinner before returning to the hotel for rest. 
Included Activities: National Park Tour, Wellington Night Sights Tour     
Optional Activities: Wellington Nightlife Experience 
DAY 6: WELLINGTON COAST AND CITY TOURS
For the last day of your tour we start at 9am and head to Weta Studio's (the famous studio's responsible for Lord of the Rings) for a tour and insight to how they do things. Next we head to the wild Wellington Coast to get to know some New Zealand wild life before heading back to the city for lunch. After lunch we head up the cable car to see some stunning views across our amazing little capital before visiting the heart of it the Beehive and parliament buildings. After this our time together comes to an end sadly and we will take you back to your hotel or the airport to say our goodbyes :(, that of course unless you have added another one of our tours onto this one :).   
Included Activities: Weta Studios Tour, Wellington Wild Coast Tour, Wellington City Tour      
Optional Activities: Today we have you covered!