New Zealand Explorer – 18 Days, 17 nights  
TOUR SUMMARY 
Auckland, Waitomo Caves, Hobbiton, Coromandel, Tauranga, Rotorua, Taupo, Napier, National Park (Ruapehu), Wellington, Marlborough Sounds, Picton, Kaikoura, Mt Cook, Dunedin, Milford Sounds, Queenstown, Wanaka, Haast, Hokitika, Franz Josef, Arthurs Pass and Christchurch.   
The true New Zealand explorer trip extensively covering the North and South Island of New Zealand. This is our favorite because it takes you to all the best places New Zealand has to offer.  The tour includes geothermal wonders, middle earth experiences, stunning beaches glowworms, Volcanoes, Maori culture, amazing vineyards, our capital city, stunning sounds cruises, amazing mountain ranges, ancient glaciers, unbelievable nature, Adventure -Adventure -ADVENTURE plus all our biggest cities. If you want to see New Zealand properly then this tour is a must. 
Add Northern Gems, Nelson Upgrade or extra custom days to make this an even more amazing experience. 
 HIGHLIGHTS
Waitomo Glowworm Caves   
Hobbiton Movie Set Tour 
Cathedral Cove
Mt Maunganui  
Wai-O-Tapu Geothermal Park 
Tamaki Maori Village and Hungi dinner
Skyline or Polynesian Spa Rotorua  
Lake Taupo cruise 
Hawks Bay Wine Tasting 
National Park Walk
Weta Studios Tour 
Wellington Sights
Marlborough Sounds Cruise
Piction city tour
Marlborough Vineyard wine tasting
Kaikoura Whale Watch
Mt Cook viewing
Dunedin City Tour
Milfords Sounds Cruise
Queenstown City and lake Tour
Queentown Skyline Lunch 
Haast Would Heritage Site Tour
Hokitika Township
Frans Josef Glacier
Arthur's Pass Trans Alpine Train Experience
Christchurch City and Earthquake Tour   
TOUR DATES:
Custom tours leave on your preferred date. Please make an inquiry to book date of your choice or for advice on when is best to come. 
TOUR (ONLY) PRICE 
Adult $5799
Child $4999
TOUR WITH ACCOMMODATION PRICE
Cheeky Kiwi can arrange accommodation for you at discounted prices for 4 star hotels and motels or you can book your own to save money.   
Twin Share Accommodation $7599 per person 
Single Share Accommodation $9299 per person
Group discounts:
5-6 people: 5% Discount, 7-8 people 10% Discount, 9-10 people 15% Discount
*All prices are based on at least 4 passengers per tour. Cheeky Kiwi reserves the right to cancel the tour or add a surcharge if less than 4 passengers are booked.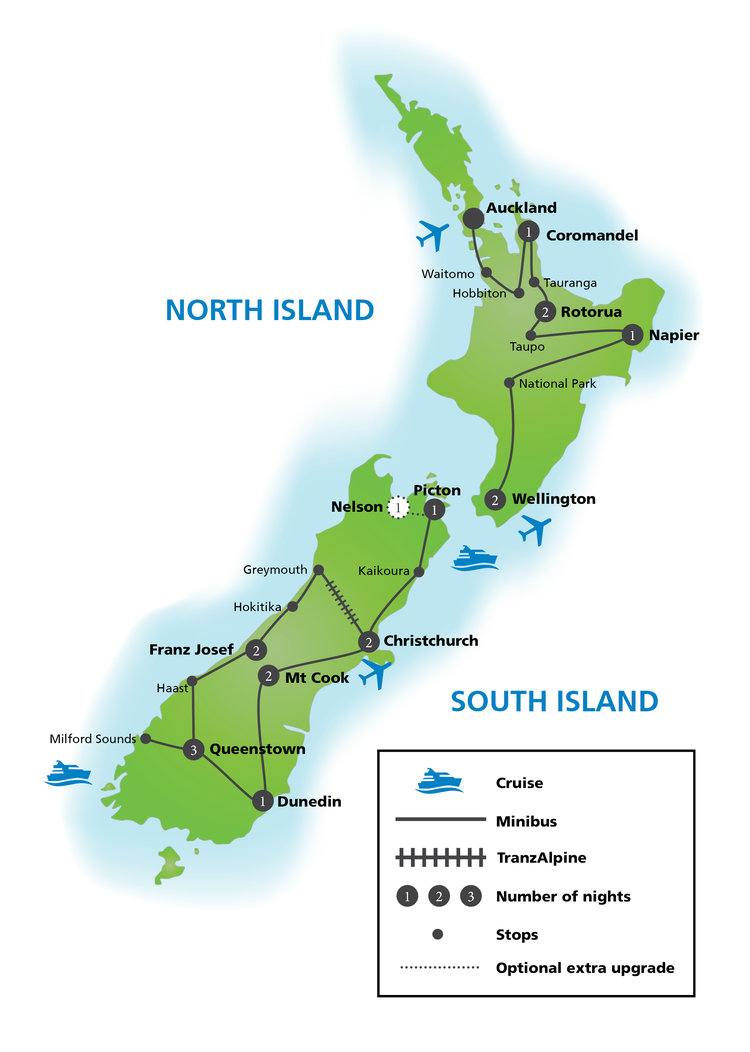 TOUR INCLUSIONS:
Accommodation (Stated level)
Breakfast
Hotel/Airport Pickup
Comfortable 12 seat minibus
Professionally guided tour
Stated activities and entry tickets
Refreshments in minibus
Entertainment in minibus
Wifi Available in minibus (extra) 
UPGRADES AND TOUR EXTENTIONS
Receive 10% discount on upgrades/ add on's  
*discount applies to the shortest or lowest price tour. Activities booked through Crew Adventures will receive a 5% discount while on tour. 
Itinerary 
DAY 1: AUCKLAND TO WAITOMO, HOBBITON AND COROMANDEL.
6am Hotel/ Airport pick up. From Auckland we head South for a action packed day. First Stop is Waitomo caves where you will explore the world famous caves formations and cruise down a underground river with thousands of glowworms above your head. Next we head to Hobbiton for your 2 hour tour of this famous movie set finishing at the Hobbit pub – Green Dragon for a refreshment. Next it's time to cross the country to the stunning Coromandel to check to your hotel for the first night and a included BBQ dinner. 
Included Activities: Waitomo Caves and Glowworm Tour, Hobbiton Movie Set, Coromandel Coast Exploration, BBQ Dinner
Optional Activities: No need for extra's we have your day covered!
DAY 2: COROMANDEL, TAURANGA AND ROTORUA  
Today starts at 8:30 am but is going to be a very relaxing day of nature. We Start with a boat ride to the world famous Cathedral Cove where we get to enjoy some time on the beach to relax, swim in the crystal clear waters or maybe play some sport. Next we head to Tauranga and Mt Maunganui driving down the country next to some stunning coast line and past beautiful forest. In Mt Maunganui you will enjoy free time to walk up the Mt, explore the area and have dinner (ice cream on the beach is a must). After dinner we head to Rotoura to check into your hotel for the night.     
Included Activities: Boat Ride to Cathedral Cove, Beach and Sports Equipment, Coromandel and Bay of Plenty Coastal Tour    
Optional Activities: Snorkeling, Glass Bottom Boat
DAY 3: ROTORUA GEOTHERMAL PARKS, MAORI CULTURE AND SKYLINE OR POLYNESIAN SPA  
Today starts with breakfast at the hotel before leaving at 9am to make our way to one of the most surreal places on earth Wai-O-Tapu geothermal reserve. While at Wai-O-Tapu you will enjoy watching the Lady Knox Geyser erupt, see one of the most photographed pieces of water on earth Champagne Lake  and experience all the other geothermal wonders this surreal place has to offer. From here you have the option between Skyline for lunch with a remarkable view and some adventure on the Luge or relax and rejuvenate at the famous Polynesian Spa. We continue our day with a Rotorua city tour and discounted souvenir shopping before a quick break in the hotel, but the day doesn't finish there. After a short break in your hotel we will head to Tamaki Maori Village for a night of Maori cultural shows and a delicious traditional hungi dinner.  After this we think that's enough for a day and it's time to rest back at your hotel.         
Included Activities: Wai-O-Tapu Geothermal Park, Skyline Gondola and Lunch or Polynesian Spa, Discounted souvenir shopping,  Tamaki Maori Village, Hungi Dinner.        
Optional Activities: Skyline Half Day Adventure – (5 luge rides + Skyswing + Zipline), Polynesian extra spa therapies or massages  
DAY 4: ROTORUA, TAUPO AND NAPIER  
After breakfast in the hotel the day starts at 8:30am with a drive to the southern hemisphere's largest lake, Lake Taupo for a beautiful lake cruise including a visit to the famous Maori carving in the cliff. After to Cruise you will have some free time to enjoy anyone of Taupo's great activities including bungy jumping, jet boating and sailing or just explore this beautiful area. Next we head to the Art Deco capital of the world Napier stopping at a stunning vineyard for dinner. The day comes to an end by checking into one of the famous Art Deco Themed hotels to rest.     
Included Activities: Taupo Lake Cruise, Vineyard Wine Tasting   
Optional Activities: Bungy Jumping, Sailing, Skydiving, Jet Boating, White Water Rafting, Prawn park and fishing 
DAY 5: NAPIER, RUAPEHU AND WELLINGTON
Today is a relaxing start with free time to explore this fascinating Art Deco city. Maybe go to the earthquake museum or the national Aquarium. At 11am we leave for national park where you will see Mt Ruapehu and Mt  Ngauruhoe (AKA Mt Doom from lord of the rings). After exploring some of middle earths dark side our journey continues to New Zealand's capital Wellington. Once in the Capital we will check into your hotel for the final night of your tour and then explore some of Wellingtons sights at night plus have dinner before returning to the hotel for rest. 
Included Activities: National Park Tour, Wellington Night Sights Tour     
Optional Activities: Wellington Nightlife Experience 
DAY 6: WELLINGTON COAST, CITY TOUR
Today we start at 9am and head to Weta Studio (the famous studio responsible for the Lord of the Rings movie set) for a tour and insight to how they do things. Next we head to the wild Wellington Coast to get to know some New Zealand wild life before heading back to the city for lunch. After lunch we head up the cable car to see some stunning views across our amazing little capital before visiting the heart of it, the Beehive and Parliament buildings. The rest of the afternoon is at your leisure. Maybe visit our national Museum Te Papa.   
Included Activities: Weta Studio Tours, Wellington Wild Coast Tour, Wellington City Tour     
Optional Activities: Te Papa
DAY 7:

 

MARLBOROUGH SOUNDS CRUISE AND PICTON
Next on your tour the time has come to leave the North Island behind and travel to the spectacular South Island. We believe there is only 1 good way to change islands and cross the Cook Straight and that's by cruising on a Interislander Ferry through the stunning Marlborough Sounds to Picton. Once we arrive in Picton and we have checked you into your accommodation the rest of the day is at your leisure. Maybe enjoy the beaches and art or enjoy us for an optional tour to one of the local vineyards for wine tasting and dinner.         
Included Activities: Interislander Marlborough Sounds Cruise      
Optional Activities: Vineyard wine tasting and dinner
Upgrade: Nelson and Able Tasman.
Upgrade to an extra day & night in Nelson with a trip to Able Tasman National park and Marlborough wine tasting for $350 per person.  
DAY 8: KAIKOURA AND CHRISTCHURCH
This morning is for the ocean lovers. We leave Picton and head along some amazing coastlines to Kaikoura. Once in Kaikoura we will head out on the world famous whale watching boats for whale, dolphin, penguin and seal viewings. This amazing trip is also packed full of marine life and is fully guided.  After returning to dry land we make our way to the beautiful city of Christchurch to check into your hotel and enjoy some free time. Maybe go to the earthquake museum or see the ruins of the famous Christchurch cathedral.
Included Activities: Kaikoura whale watching cruise     
Optional Activities: Christchurch city night tour 
DAY 9: CHRISTCHURCH AND MT COOK   
Today starts with a tour of  Christchurch City before our journey to New Zealand's tallest mountain Mt Cook. On the journey to Mt Cook there will be breathtaking views of the Southern Alps along the way and we will stop at Lake Tekapo. While at the lake you can view the Church of the Good Shepherd by the lake shore. The altar window offers awe-inspiring views of the lake and mountains of the Mackenzie Country. After arriving at Mt Cook you will enjoy some free time to explore this amazing location. 
Included Activities: Christchurch City Tour, Lake Tekapo, Church of the Good Shepherd.    
Optional Activities: Today we have you covered.
DAY 10: MT COOK
Today you have a free day to explore Aoraki Mount Cook. Mt Cook is New Zealand's tallest peak surrounded by stunning glaciers. The options for activities of all ages to enjoy are limitless from relaxing and taking in the spectacular alpine scenery. Maybe take a walk up one of the number of accessible mountains to view the unique animal and bird life of this region. If you are feeling a bit more adventurous there are scenic flights with ski-plane landings and a MAC boat tour of the Tasman Glacier Terminal Lake. No matter what you do, you will love this awe-inspiring national park. After your day we will enjoy another relaxing evening in Mt Cook before departing for Dunedin early morning.
Included Activities: exploring Mt Cook region    
Optional Activities: Scenic Flights, MAC Boat Tour, kayaking, hiking
DAY 11: MT COOK & DUNEDIN
We get an early start today as the adventure continues to Dunedin. Along our journey heading south we will view the vibrant seaside town of Timaru and see interesting architecture in Oamaru before stopping at Moeraki Beach, famous for it's perfectly rounded boulders embedded in the sand. In the early evening we will do a city tour around Dunedin so you can get your bearings before some leisure time to explore and enjoy this interesting city full of history. 
Included Activities: Moeraki Beach and Dunedin city tour     
Optional Activities: We have you covered today 🙂
DAY 12: DUNEDIN & QUEENSTOWN 
Today starts with a ½ day wildlife and peninsula cruise along the length of the Otago Peninsula and Taiaroa Head. During this cruise you will get to experience the mighty Albatross, see the local Fur Seals playing and hopefully encounter Yellow Eyed Penguins and Dolphins. After the cruise we will explore the city some more, seeing Larnach Castle and other historic sites before making our way to the absolutely amazing alpine resort that is in Queenstown.     
Included Activities: ½ day wildlife and peninsula cruise, Larnach Castle  
Optional Activities: We have you covered today 🙂
DAY 13: QUEENSTOWN
Today we enjoy the day in the famous adventure and scenic capital of the world Queenstown. To help you make the most of this incredible city we have arranged a Jet Boat ride up the Shotover River. This thrilling ride through dramatic and narrow canyons complete with exhilarating 360 spins is a great way to start your Queenstown experience. Next you have free time for the rest of the day. You might need to get your heart rate down so we suggest walking around this amazing town that feels like it's out of a fairy tail. You could explore the shops, art or enjoy some of the delicious Otago wines and food. If you haven't had enough excitement of course anything crazy you can think of is available for you to do in this mad town so take your pick of heart racing activities. For those of you that like more relaxing activities jump on a tour to see some of the Lord of The Rings filming locations or explore some of the amazing scenery and walks around the city. No matter what you like to do we can assure you Queenstown will not let you down!     
Included Activities: Shotover River Jet Boat ride   
Optional Activities: Almost anything you could think of see. For just some options check https://cheekykiwitravel.com/activities/ 
DAY 14: MILFORD SOUNDS CRUISE & QUEENSTOWN  
Today is an early start to make sure we can make the most of the Milford Sound and Fiordland National Park. We will travel past Lake Wakitipu to Lumsden, then onto Lake Te Anau. From here the scenery changes dramatically from grasslands to glacier valleys. Then we will travel through the breath taking man-made Homer Tunnel before reaching Milford Sound. Once at Milford Sound, you will board your launch for an incredible cruise seeing the wonders of Mitre Peak, glacier rock walls that are 1,200m high that waterfalls tumble and crash into the Sound far below from and unique wildlife. This truly untouched environment has no comparison and feel prehistoric. On completion of your cruise you will return to Queenstown to enjoy another evening. 
Included Activities: Milford Sounds Tour and Cruise 
Optional Activities: Today we have you covered!
DAY 15: QUEENSTOWN, WANAKA & FRANZ JOSEF
Leaving Queenstown today we travel north towards Franz Josef Glacier stopping at an amazing vineyard to do some wine tasting on the way. After the tasting we continue to a stunning town called Wanaka for a quick break and some photo's of the breathtaking lake. Our journey continues to the Haast Pass (gateway to World Heritage Westland National Park) and past some of the most spectacular scenery, mountain ranges and native forests you will ever see. Our journey ends today at the amazing Franz Josef, where we can rest for the evening. 
Included Activities: Wine tasting, Wanaka Tour, Haast Pass  
Optional Activities: Today we have you covered!
DAY 16: FRANZ JOSEF GLACIER
Today is at your leisure. We suggest enjoying a guided walk, helicopter ride or a scenic flight from the Franz Josef township to experience the glacier. If you'd prefer to relax head to the Franz Josef Glacier Hot Pools in the forest for the day or wonder through this cute village with local art, gifts, and cafes. 
Included Activities: Today is for you to explore and for your guilds to rest 🙂
Optional Activities: Guided Glacier walks, Helicopter & Hike Glacier Tour, Scenic Glacier flight, Glacier Hot Pools 
DAY 17: FRANZ JOSEF GLACIER, TRANZALPINE TRAIN, CHRISTCHURCH
Today we head north through Hokitika and into Greymouth for a quick break before boarding the famous TranzAlpine Train considered one of the world's best scenic train trips to Christchurch. You will enjoy incredible views of Lake Brunner, viaducts, Tunnel, ice – fed rivers, farmland and the beautiful landscape of the Canterbury Plains. Arriving in Christchurch in the early evening we will have time to check into the hotel before resting for the evening.  
Included Activities: TranzAlpine Train Ride 
Optional Activities: Today we have you covered!
DAY 18: DEPART FROM CHRISTCHURCH
Sadly the tour has come to an end and you will be continuing your journey without us today.